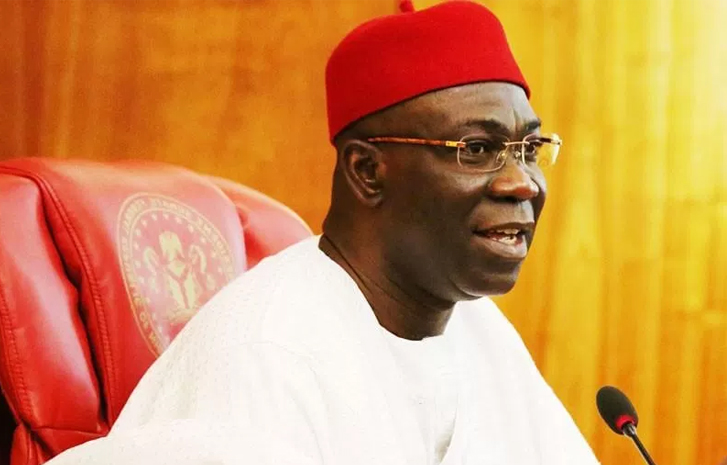 Enugu Guber Tussle, CCT Trial: Ekweremadu Congratulates Ugwuanyi, Saraki On Supreme Court Victories
The Deputy President of the Senate, Senator Ike Ekweremadu, has congratulated the Governor of Enugu State, Rt. Hon. Ifeanyi Uwuanyi, on his victory in the Peoples Democratic Party, PDP, 2015 governorship primary legal tussle between him and Senator Ayogu Eze decided by the Supreme Court on Friday.
Ekweremadu has also congratulated the President of the Senate, Dr. Bukola Saraki, on the Supreme Court's unanimous decision dismissing the assets declaration charges against him before the Code of Conduct Tribunal, CCT, describing it as victory for the legislature and democracy.
The Senator, who described Governor Ugwuanyi as a "God-sent agent of peace and development in Enugu State", said the Supreme Court had affirmed not only the verdict of Enugu State PDP faithful in the 2015 gubernatorial primary, but also the overwhelming acceptance of the Governor among the people of the State.
He said: "This is victory, not just for Governor Ugwuanyi, but also more importantly a victory for peace, equitable development, and unusual transformation in Enugu State.
"I believe it is a motivation for the Governor to do more and surely a veritable launch pad into the 2019 general elections for the PDP in the State. It is instructive that the three Senatorial Districts of Enugu State have already endorsed him unanimously for a second term in office because he has justified our decision in electing him in 2015".
On Senator Saraki's victory, Ekweremadu said: "I salute the courage of the Supreme Court jurists. This decision has no doubt strengthened faith in the judiciary as a sanctuary of justice and defender of rule of law. It has, once again, distinguished the judiciary as the bastion of democracy and last hope of the oppressed.
"This is victory, not only for the President of the Senate, but also victory for the National Assembly, our democracy, and indeed victory for every Nigerian, who has stood up against all forms of political intimidation, highhandedness, and impunity.
"I salute the President of the Senate for his resilience, courage, and undying commitment to the immutable democratic principles of the rule of law and separation of powers as well as the integrity and independence of the legislature".