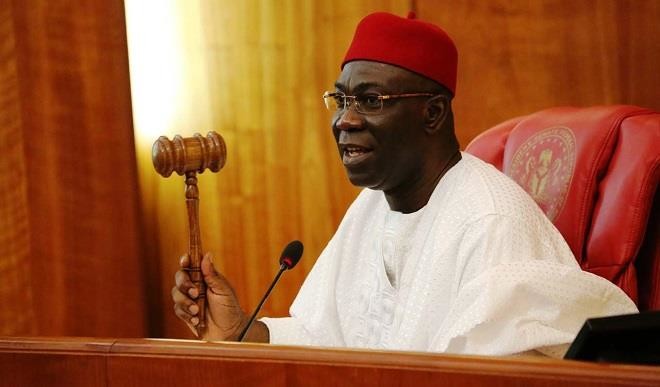 Women In Parliament: Ekweremadu Laments Nigeria's 168th Position
The Deputy President of the Senate, Senator Ike Ekweremadu, has lamented what he described as Nigeria's abysmal global ranking in women representation in governance, especially in parliaments.
Ekweremadu observed that while Nigeria ranked 168th in women in parliament globally, Rwanda ranked as world's number one.
Ekweremadu spoke on Tuesday at a stakeholders' meeting to improve the representation of women organised by the Policy and Legal Advocacy Center, PLAC, in Abuja.
He lamented that while women, including Kudirat Abiola, Ayo Obe, and Joe Okei-Odumakin, played key roles in the struggle for the current democratic dispensation, women had been relegated in the governance of the country.
"Ours has been a case of one step forward, two, and sometimes, three steps backward. Our women have been held down by factors ranging from the cultural to the religious, economic, and political.
"Our society wrongly believes that the role of the woman is that of a fosterer and in the kitchen. There is the wrong notion that women are not meant to lead, thus placing a glass ceiling over them. Those who vie for leadership positions are viewed as overambitious and deviants.
"Women representation in parliament where major policies are discussed and given legal backing is very poor. According to the Inter-Parliamentary Union, IPU, Nigeria places a very distant 168th position in women representation in national parliaments worldwide, as at May 2018. Nigeria is just slightly better than a few countries like Thailand, Kuwait, Lebanon, Haiti, and Oman.
"Conversely, the East African nation of Rwanda is first in the world, while Namibia is 5th. Ironically also, other African nations such as South Africa, Mozambique, Ethiopia, and neighbouring Senegal are among the top 20", he added.
Ekweremadu recommended an amendment to Section 42 of the Constitution and a change to proportional representation to boost women representation in governance.
He explained: "You cannot confer any special political advantage on women under the 1999 Constitution as amended because Section 42 of the 1999 Constitution clearly provides that you cannot discriminate against any Nigerian by the reason of his or her community, ethnic group, place of origin, sex, religion, or political opinion.
"Therefore, the first step is to amend Section 42 of the Constitution to provide for an exception and also a special quota for women in line with the 35 per cent Affirmative Action.
"What Rwandans did was to amend the country's constitution in 2003 to provide for a minimum 30 per cent quota for women in all the decision-making bodies and organs, including the national parliament and political parties leadership. Today, Rwandan women not only control the majority in the country's national parliament, Rwanda is also the first country with women majority in a national parliament.
"However, a constitutional provision for a quota for the women in elected positions will be difficult to achieve under our current first-past-the-post voting system. We need to adopt the proportional representation system in which each political party will eventually be allocated parliamentary seats in proportion to the votes they garnered at the polls. That way, they will effectively be in a position to distribute the seats in a way that honours affirmative actions in favour of women, minority groups, the physically challenged, among others".
He observed that leading African nations in women representation in parliament, such Namibia, Senegal, South Africa, Mozambique, operate proportional representation voting system.
Citing the last constitution amendment effort during which the proposal to reserve 35 per cent of the appointments into the federal and state cabinets for women was defeated, Ekweremadu warned that "Nigeria may never get to the Promised Land until Nigerian women occupy their rightful place in governance", noting that "they have the integrity, knowledge, and empathy to build a better future".
In their presentations, the Executive Director of PLAC, Clement Nwankwo, and the Resident Electoral Commissioner, Anambra State, Nwachukwu Orji, said that while the retrogression in women representation in Nigeria was quite unexpected, progress was possible if Nigeria adopted the right policies and legal reforms.