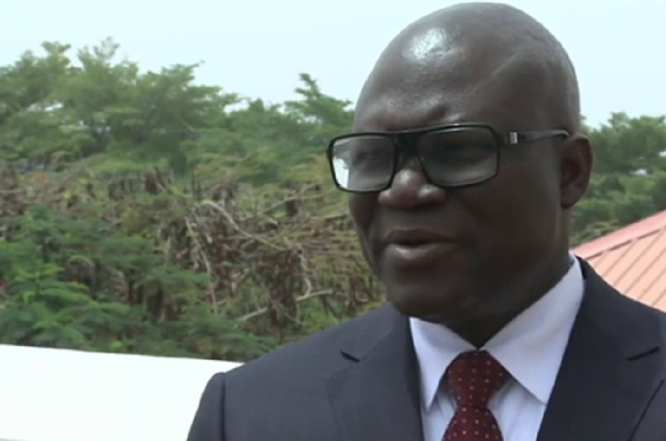 "Just Do Good": A June 12 Story – By Reuben Abati
–
I used to have a friend we called Alhaji Bashy.  He was not a Muslim. No. But he called himself Alhaji Bashy, even if that was not his real name. You want to know his real name? It was Theophilus. And his wife was named Ruth. His children? He was yet to have one. Even Ruth was called his wife by designation. We were all young in those days, and any woman to whom you wrote regular love letters and poems, and she gave you attention was your wife. In those days, you didn't have to give a woman a N100 million worth of car to assure her that you were in love, you did not have to go as far as Offa to rob a bank so you could earn a living. Once you grabbed a woman and you could send her titillating love poems and she believed, you gained the right to press all buttons, and shake every table in her body. The Vice Chancellor of one university in those days became very notorious. He said his students were among the brightest in the country but that he could not vouch for those students' tendency and ability to explore the internal anatomy of the female homo sapiens!  The laughter that greeted that announcement stretched from one part of the country to another.
And the women didn't complain. They were happy to have a man who loved them genuinely.  You didn't have to put a ring on their fingers. They would cook for you, wash your clothes, kneel down to greet your mother, your father, your siblings, pray for you, and even if you didn't marry them at the end of the day, they would still not take offence. They would resolve that the will of God had been done.  The moment they agreed to become your friend, they became automatically your wife and some of them even if they married other men later, would remain on pension in your life forever. Yes, in this country, women used to survive like that on such anticipatory approval that had life-long consequences. I confess that I am still paying pension but I won't name the women.
As you can see, anticipatory approval started in Nigeria a long time ago. Not just with girlfriends who became bush meat or fiancées or eventually wives, or other people's wives. In those days,  even persons who had no bicycle, and were professional trekkers boasted about their leggedes-benz. They turned their legs into a brand of the Mercedes Benz!  Those who could barely afford a pair of slippers insisted they would one day ride the Mercedez. Now come on, that was a popular luxury car in those days. Only important folks could afford it.  So rugged, that car was nick-named "the German mistake". Alhaji Bashy, even when we all smoked garri with groundnuts and watched the big boys who came from town to toast campus babes with ordinary suya, had big dreams. He believed he would also one day be able to buy his girlfriend the barbecued meat called "'suya" and a Mercedes. And Ruth was happy to hear that one day she too would ride a car. She was happy with Alhaji Bashy.
It was a different country we lived in. The men appreciated the women. Whatever went wrong, the women knelt down and begged their men and the men reciprocated by honouring the women.  Nigeria was a community of happy people, anyone that behaved anyhow was ostrasized.   I recall even being referred to on many occasions as Mallam when my only connection with Mallam things was to wait for the eid-el-kabir season to eat the generous portions of ram meat that Muslims gave their Christian compatriots.
We all ate together and enjoyed together and married across religious and ethnic divides. Our country was then just one happy place. Oh, what a happy place. Muslims and Christians played with one another and the festive season was the best time to show boundless amity.  Cows didn't pose a threat to farm produce.  Every disagreement was resolved either in the bedroom or the beer parlour or at communal associations.  Alhaji Bashy used to joke that Muslim girls were better than Christian girls and if we reminded him that his Ruth was Christian, he would laugh from one end of his mouth to the other, his 32 teeth in full display, and he would say:
"It is good to be good, when you are good to a woman, or any person, he or she will be nice to you, Christian or Muslim. Love knows no religion. Nobody is a Mallam or pastor in the bedroom."
"Alha-ji Bay- sheeey", we would all scream
"It is nice to be nice, because nice is nice, " he responded.
Bashy was a good guy.  He was incapable of hurting another fellow. No matter how serious the situation was, he reduced it all to laughter.  The only thing that mattered to him was Ruth, the sugar in his tea, the puff-puff in his mouth, the woman he loved, the hope of his future. Ruth. I remember Ruth. She was that type of woman God created in a relaxed mood. You know how it is: some women look like God created them in a busy and tired moment, and hence they come out looking anyhow. But Ruth: God took his time.  Any time she walked into a gathering of men, all the men had their instruments standing at attention in honour and in respect, and in anticipation. But she had eyes only for Bashy, and many used to wonder what he saw in the guy and his gross features.  We all sulked and grumbled believing that God sometimes gives the best to the ugliest.
Then all of a sudden, June 12 happened.  June 12, 1993 was the day our country held its freest and fairest election since 1922 when the first democratic elections were held. After colonial rule and influence, a short period of civilian rule and a prolonged military rule, another democratic interregnum, Nigerians eventually became tired of military rule.  The rest of the world was moving towards democracy. The Berlin wall had collapsed. Across the world, everyone wanted the people to be the owners of power and masters of their own destiny.  In our country, everyone wanted to escape the trap of authoritarianism. On June 12, 1993, the military had asked the people to choose a President – one of their own. Bashy was one of those who supported Chief MKO Abiola, the candidate of the Social Democratic Party (SDP). MKO promised Nigerians hope, progress and abundant welfare.  One Baba Gana Kingibe was his running mate.  The two of them were Muslims, but nobody raised any questions. Nigerians voted for their Muslim-Muslim ticket. It was a national unity ticket. The Christians didn't mind. The people wanted change and it didn't matter to them whatever shape the revolution took.
But the military stood in the people's way and the entire country went adrift. The military annulled the election and aborted the people's hopes. Alhaji Bashy was one of MKO's men. He worked for him. He followed him.  He became his disciple. "MKO-o o-oooooo is our man oooo" became his national anthem." He was one of those who believed Chief should stand up to the soldiers and claim his mandate.  He reported at MKO's home in the morning and left at night. He attended meetings he didn't need to attend, but he did all the same because he believed in democracy. He told me once that if Chief was allowed to claim his mandate, Nigeria would become one of the best countries in the world. But the military hierarchy,  after an overdose of peppersoup diet, obviously and in retrospect, refused to hand over Abiola's mandate to him. People like Bashy insisted on a revolution. He was at Epetedo where MKO claimed his mandate in a historic statement. History was made at that moment and MKO's followers were proud of his courage and resolve. When Alhaji Bashy returned from that event and I saw him, I knew something had gone wrong. His eyes were blood-shot.  'MKO or nobody", he screamed throughout the night
Those were sad days. Two days later, Ruth, the centre of Bashy's life was attacked by a group of men. They raped her. They slashed her throat. They dumped her in front of Bashy's flat. Alhaji Bashy was detained for a month. They said he killed her. But he didn't. I was one of the people who went to the police station to testify that Bashy was a lover-boy, not a killer and that Ruth, with her buttocks that rolled as if it was responding to unheard music was all that he lived for. Bashy was released. The revolution that he wanted did not happen, because shortly after, Chief MKO Abiola was arrested and detained by the military authorities. He never came back alive.  They said he drank tea and he died.
Bashy was devastated.  He took to the bottle. He drowned his sorrow in alcohol. He became a shadow of himself.  He owned a rickety Beetle.  The Beetle, a Volkswagen star brand in those days, was known for its ruggedness. Bashy managed to buy a used one for N22, 000 – a lot of money in those days. The only problem was that his Beetle had to be pushed before it would move. Some of us who were his close friends knew this routine. Whenever Bashy wanted to leave, we would start moving away strategically to prevent being forced to jump-start his notorious Beetle. It was really a tug of war, so difficult to know who was driving the other between Bashy and his wretched car.  The only problem was that once you helped to push and the car jumped alive, a huge of volume of smoke escaping from the exhaust would suddenly emit onto your face. Pure carbon monoxide: Bashy would speed off, but you would be there struggling for oxygen and cursing that you'd never do it again. The more alcoholic Bashy became, the more unpredictable he also became. He was a shadow of his former self. It was as if the light that kept his life aglow had been switched off.
One day, on his way to his abode in Ajangbadi; armed robbers accosted him.  Our country was extraordinarily lawless and ruthless and unsafe. Hadji Bashy told me the story himself, a day after. They stopped his car and asked him to come down. Come down! Come down! They pointed guns at him, each of his three assailants holding a gun. Bashy was dead drunk. He was dead to the world.
"Eyin boys, bawo ni. What is happening?"
"Are you crazy? You think we are joking with you?"
"Shut up" he said he told them. "I know you. You people are thieves. Armed robbers. Idiots".
"Since you know, oya give us everything you have", one of them replied.
"What do I have? I am coming from a June 12 event. You people should join us to make Nigeria better. Join hands with us to create Hope for this country."
"Ha. Pastor ma leleyi oh, Ti Nigeria ba good, you think we will be here on this road robbing people. Gbagbe e o omo. Gbori n be.  Irin tutu re oh,"  one of the boys reportedly said.  "Irin…Irin ise. Iyalaya anybagga"
The boys behaved as if they were drugged. Bashy himself was drunk. They kept their guns pointed at him.
"Ewo eyin boys, I have just 2, 000. We will share it. You people will take N1, 000 and I will keep 1, 000 because I will have to buy fuel into this jalopy tomorrow morning . If you don't agree, let me know now."
He said the robbers burst out laughing. Bashy went about with a carton of beer since Ruth died.  He drank as he drove. He went to the back seat of the car. He had four bottles left. He took two bottles and gave to the robbers. He asked them to take two and he would keep two bottles for himself. He then turned on the car radio, inserted a cassette and asked the robbers to let them have fun. He started dancing, after opening two bottles of beer. Two of the robbers couldn't believe what they had just seen. They laughed. One of them said:
"There is something in this Lagos oh. What will somebody not see on this job? This one doesn't even know he is being robbed. He is too drunk to be aware."
"June 12, my brothers. June 12. Let us show these bloody soldiers that on June 12 we stand," Bashy told them.
The robbers collected two bottles of beer and the N1, 000 and drove off. I saw Bashy the following morning. I found him with a bottle of coke in his mouth. He was listening to the music of Reggae artist, Ras Kimono, a rhumba styleee…stai-leeee.  He looked so dejected. I was alarmed. He told me his story.
"Bashy, what happened?"
"Nothing"
"No something happened. You are drinking coca cola in the morning. What happened to schnapps?"
"I will never taste alcohol again"
"How? Why?'
 "Can you believe that I encountered armed robbers yesterday and they didn't shoot me? I told them off. I abused them, I told them I am a June 12 man and they still allowed me to go. I will never drink again."
Bashy kept to his promise. He has not been invited to the special national honours ceremony for Bashorun MKO Abiola. He died two years ago. He is survived by a daughter. Ruth's daughter….