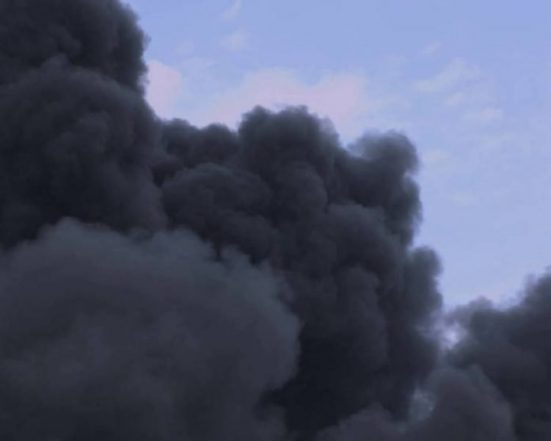 Fire razes 700 market shops in Bauchi
No fewer than 700 market shops in Azare, the capital of Katagum Local Government Area of Bauchi State, have been razed following a dawn fire that engulfed the market, on Sunday.
Governor Mohammed Abubakar who visited the area, on Monday, commiserated with the people of Azare town over the fire incidence that destroyed yet to be quantified goods.
A statement signed by his Press Secretary, Abubakar Al-Sadique, disclosed the governor assessed the level of damage caused by the inferno and announced government's readiness to provide immediate relief materials to the victims.
Going round the devastated market in company with the Emir of Katagum Alhaji Umar Farouk, Governor Abubakar lamented that lack of access roads was responsible for the inability of fire-fighting vehicles to quell the fire.
He said government would ensure that the market is modernised when reconstructing it.
The governor had earlier on Sunday commiserated with the people of Bauchi state over the deaths and destructions as a result of heavy downpour and windstorm.
The windstorm, which on Saturday evening cost the state many lives and hundreds of houses, schools and property worth millions of naira in many parts of the state.
In a broadcast to the state after personally carrying out an on the spot assessment of the communities affected by the windstorm in company of the Emir of Bauchi, Alhaji Rilwanu Suleiman Adamu, Governor Mohammed Abdullahi Abubakar said "As true believers, we should take the incident as an act of God and at the same time pray to Almighty Allah to give us the courage to bear the losses incurred."
Governor Abubakar said thorough assessment is being carried out on the destructions in all nooks and crannies of the state with a view to providing immediate assistance to the victims, stressing that the Federal Government will be intimated of the situation for possible immediate assistance.
"The state had witnessed a heavy downpour, which came along with heavy windstorm that caused serious destructions to homes, schools, farmlands, market places in many parts of the state, all of which came just after our fervent prayers to the Almighty Allah for rains," Governor Abubakar added.
The governor unveiled the state government's immediate plans, in conjunction with the traditional leaders, to redouble efforts in checking desertification and global warming as a way of reducing the effects of such destructive windstorm.
Governor Abubakar therefore called on traditional, religious and community leaders in the state to join government in enlightening people on environmental protection techniques, particularly "The urgent need to stop cutting down trees, rather we should imbibe the culture of planting and protecting trees."
The governor appealed to philanthropists, corporate organizations and well-wishers to help the government by coming to the aid of the victims of the windstorm prayed for the repose of the souls of the deceased.