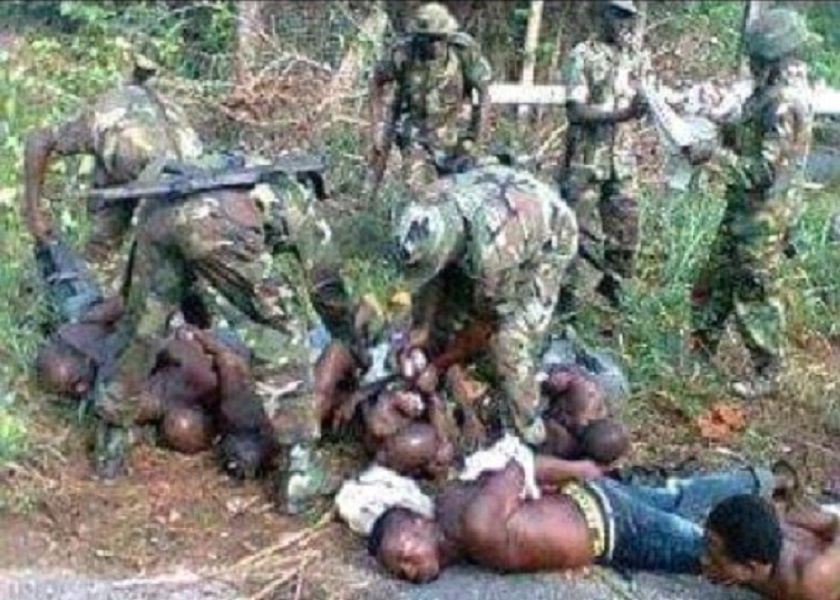 May 30th Sit-At-Home Will Encompass Southern Kaduna, Benue And Middle Belt States – IPOB
–
Loading ...
May 30th sit-at-home order is sacrosanct and shall be observed annually until the end of time. 30th of May 2018 will witness a total lock-down of South East, South South and selected states and cities across Nigeria. Not only will our heroes and heroines of the class of 67-70 be honored in the finest traditions of IPOB, other victims of sectarian violence, Fulani terror herdsmen, Boko Haram and state sponsored extra judicial killings will also be remembered. A two minute silence will be observed at 12 noon on the 30th to ponder and reflect upon the courage and patriotism of the brave men, and women that willingly sacrificed their lives to preserve what is left of our race today. We must remember, reflect and ponder over the pain and suffering of over 1 million innocent Biafran children deliberately starved to death by the Nigerian government as a result of an evil policy to wipe out an entire race of people from the face of the earth.
Without the heroics of Biafran soldiers in the Biafra-Nigeria War, the plans of the enemy to forcibly erase Biafrans from the face of the earth and turn our land into an Islamic enclave would have succeeded. We shall continue to remember our heroes the way every other single civilised society and world remembers their war dead. It will take an extraordinarily high level of insensitivity, ignorance and self hatred for any Biafran, no matter where domiciled in the world, not to observe 30th of May 2018 Heroes Remembrance Day. We owe it to our glorious dead to honour their bravery, heroics and sacrifice that ensured that South East and South South remain to this day an area untainted by Islamic dominance. The only entity in West Africa to have such distinction. We cannot repay them enough for what they did for us. Therefore, we must honour them.
The sit-at-home order entails no human or vehicular movement anywhere around Biafraland from 6pm on the evening of the 29th of May to 6pm on the 30th. All road journeys should be terminated at exactly 6pm on the 29th. Any vehicle seen on the road after 6pm on the 29th of May will be regarded as a mark of disrespect and treated as an enemy of the Biafran people because 30th of May every year is a designated public holiday across Biafraland. Only ambulance and those responding to emergencies are allowed on the roads. No living being should be seen outside on the 30th of May because it is the most important date in the calendar of our people and shall remain so forever and ever.
As was previously announced, May 30th sit-at-home this 2018 will encompass Southern Kaduna, Benue State and those areas in the Middle Belt experiencing unprecedented human suffering and ethnic cleansing. Some Yoruba states including Lagos where Fulani terrorist herdsmen activities had been most noticeable are also expected to join the sit-at-home. This year's 30th of May 2018 is going to be a national day of mourning. There will be no rallies or gatherings outside. It is a day of sober reflection and deep introspection that will convey a message to the present day rulers of Nigeria that enough is enough.
We are calling on all Christian congregations across Biafraland and Nigeria, National Union of Road Transport Workers (NURTW), Luxurious Bus Association of Nigeria (LUBAN) National Road Transport Owners (NARTO), Markets, Banks, Schools, Civil Servants, Farmers, Traders, Private Businesses and Companies to shut down every activity and stay indoors on the 30th of May 2018 to help bring state sponsored terrorism and Fulani herdsmen violence to an end.
–
COMRADE EMMA POWERFUL MEDIA AND PUBLICITY SECRETARY FOR IPOB.