Imo State Assembly Must Reject Impeachment Inducement Against Deputy Gov – APC Chairman
Press Release
Loading ...
Re: Removal Of Majority Leader Of Imo State House Of Assembly And Rumors Of Impending Impeachment
The State Exco of our great Party has noticed with dismay, the recent removal and replacement of the Majority Leader, Imo State House of Assembly.
The Party wishes to use this opportunity to remind the leadership of the Imo State House of Assembly that it is the sole responsibility of the ruling Party to remove and replace Principal Officers of the House. We therefore declare the removal of Dr. Uche Oguwuike as Majority Leader as unconstitutional, and an aberration to the rule of law. You may recall that on the 4th of December 2017, the Party exercised this responsibility via a letter titled: Withdrawal And Replacement Of Two(2) Principal Officers Of The House.
The attention of the State Exco has also been drawn to the news making the rounds that the Imo State House of Assembly intends to initiate an impeachment process against the Deputy Governor of Imo State, His Excellency, Prince Eze Madumere,MFR.  We wish to advise anyone involved in this ungodly mission to desist as such news is not healthy at this point in time that the Party is making concerted efforts to unite.  You may recall that Mr. President has recently appointed Asiwaju Bola Tinubu as Chairman of Peace and Reconciliation Committee to that effect.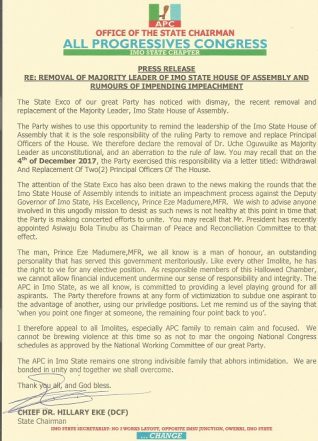 The man, Prince Eze Madumere,MFR, we all know is a man of honour, an outstanding personality that has served this government meritoriously. Like every other Imolite, he has the right to vie for any elective position.  As responsible members of this Hallowed Chamber, we cannot allow financial inducement undermine our sense of responsibility and integrity. The APC in Imo State, as we all know, is committed to providing a level playing ground for all aspirants.  The Party therefore frowns at any form of victimization to subdue one aspirant to the advantage of another, using our priviledge positions. Let me remind us of the saying that 'when you point one finger at someone, the remaining four point back to you'.
I therefore appeal to all Imolites, especially APC family to remain calm and focused.  We cannot be brewing violence at this time so as not to mar the ongoing National Congress schedules as approved by the National Working Committee of our great Party.
The APC in Imo State remains one strong indivisible family that abhors intimidation.  We are bonded in unity and together we shall overcome.
Thank you all, and God bless.
CHIEF DR. HILLARY EKE (DCF)
State Chairman