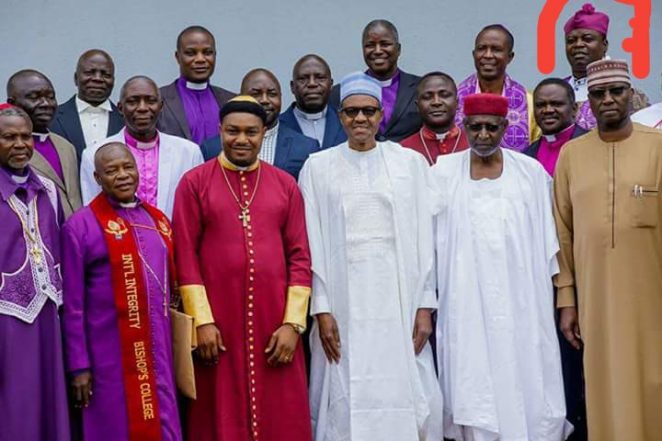 Presidential Voyage: I Was Deceived By Pro-Buhari Arewa Pastors, Says Bishop Sado
–
Loading ...
A fresh insight into the recent endorsement of President Muhammadu Buhari by Arewa Pastors Non-Denominational Initiative for Peace in Nigeria (APPIN) has emerged. 
This came barely 24 hours after the President's declaration to seek re-election in 2019 u see the platform of the All Progressives Congress (APC). 
Although the pilgrimage to the Presidency by APPIN led by Benue State-born Bishop John Richard Abu had sparked off public outcry from Christendom in Nigeria, one of those who attended the meeting said he was "conscripted through deception."
The Pastor of Church of Eternal Life (Abuja branch) and former President (Youth Wing), Christian Association of Nigeria, Bishop Henry Sado, told journalists in Abuja on Tuesday that he was allegedly deceived by Abu using the name of popular pastors in Nigeria.
His name went viral on the social media after he was identified in the photograph of APPIN members who embarked on what has now become political pilgrimage to the Presidency.  
Sado said, "Bishop JRA (John Richard Abu) called me on Wednesday April 5 2018 to be part of his team to the (Aso Rock) Villa on Thursday April 6. He told me about his closeness to a former President of CAN. He also said he had spoken with the Chairman of Pentecostal Bishops in the 19 Northern States and FCT who is also the Founder of Dominion Chapel International Churches, Archbishop Daniels John Praise; hence I should please follow him.
"I asked him the purpose of the visit to the Villa and he said like other Christian groups that have been visiting the villa, he wants to go and present burning issues to President Buhari, including the case of Leah Sharibu, the female student of Government Science Technical College, Dapchi, Yobe State who is still being held captive by Boko Haram insurgents and a prayer conference. I am not privy to the speech he presented.
"I met him for the first time on Thursday April 5 2019, in fact I had to call him to identify him in the midst of others. On getting to the Villa, the Chaplain of Aso Villa (Seyi Malomo) was surprised to see him and he asked of Archbishop Daniels John Praise and Rev. Yakubu Pam (chairman of CAN in 19 Northern States and FCT), two very prominent Northern Christian leaders and he said they are not in his team. There and then, I suspected there are issues, I had been conscripted through deception."
"I was asked to stand in for FCT since the Arewa Pastors are supposed to come from the 19 Northern States and FCT. I Pastor and have lived in Abuja for the past 17 years, by God's grace. Some Christian leaders have been to our church before. I was former National Chairman of YOWICAN (Youth Wing of CAN). I have never turned my back against the Christian community before, my records with the fathers and God speaks for me. 
"Let me also reply those who said because I don't have good phone, that was why I didn't reply greetings on Facebook on my birthday in February. I stopped Facebooking about two years ago and those close to me know. The only phone I used that costs N65,000 was given to me by the National President of Pentecostal Fellowship of Nigeria, Papa Felix Omobude in 2009. My phone can browse and it is N32,000. I am a very modest child of God."