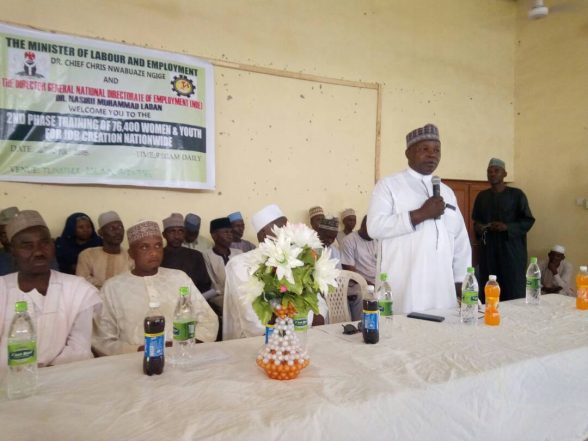 NDE Trains 2869 Youths In Cosmetology, Others In Kano
Loading ...
The National Directorate of Employment (NDE) on Monday in Kano, has flagged off the training of 2869 youths comprising of both male and female in various acquisition skills.
The training which is scheduled to last for two weeks is aimed at equipping unemployed youths in the State with various skills to become self reliant to combat idleness among the youths which according to experts, contribute to the increase in social vices.
The 2nd phase of the National Directorate of Employment's training in Collaboration with the Minister of Labour and Employment Dr. Chris Ngige is targeting to train a total number of 76,400 for job creation nationwide.
The Female trainees which made up 70% are to receive training on cosmetology while their male counterparts (30%) are to be trained in computer repairs, phone repairs, Satellite installations, repairs and maintenance.
The State Coordinator Alh. Iliyasu Ahmad applauded the President Muhammadu Buhari led administration which withing few months has trained over 76,000 youths in the country.
" by the end of this training, we hope to cushion the effects of poverty which the youths have suffered for quite some time"
"it's not longer a news that the Nigerian youths are faced with unemployment, and through such skill acquisition programmes, many have been given a new life, many have been trained and are currently self reliant and have gone ahead to employ the services of others in their businesses"
" the issue of drug abuse among youths and women in the Northern part of the country is all associated with hardship emanating from unemployment. With the current number of women we are training which is 2029 and 869 males, we hope to reduce the number of those who engages in such.
The head of department, vocational skills development of the directorate, Alh. Balarabe Danjuma said that the directorate would ensure that trainees are properly trained, equipped with necessary facilities and makes judicious use of such facilities as well as the skills acquired.
Special guest at the occasion, personal Assistant to the President on Broadcast Media Sha'aban Ibrahim  Sharada tasked the trainees to utilize the opportunity and learn the best they could assuring that President Buhari remain committed to making the lives of youths better by introducing policies and strengthening such programs that would provide them with employment at the end of the day.