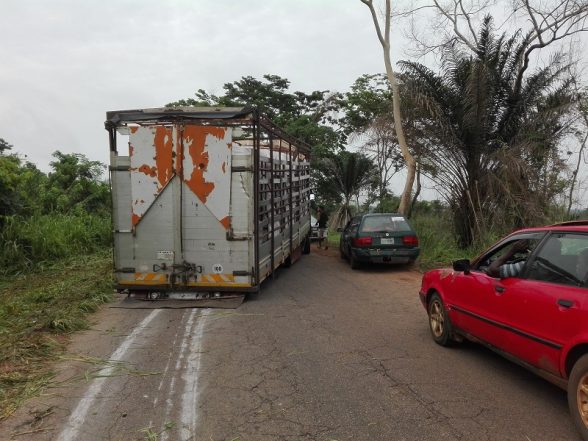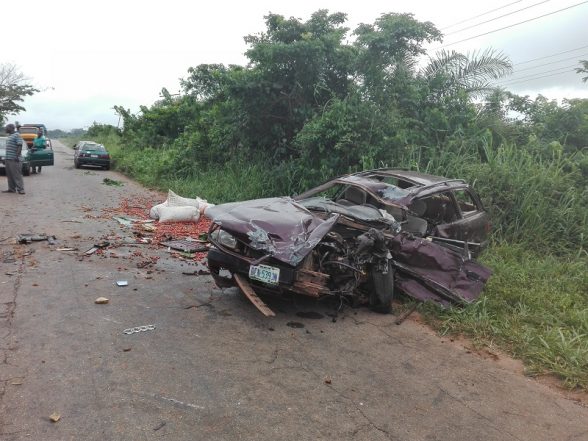 Ghastly Motor Accident Claims Driver's Life In Edo
–
Loading ...
A commercial cab driver who's name was given as John Inebiomanor has lost his life in a ghastly motor accident that occured in the early hours of Thursday, at about 1 am.
The accident which occurred at Obarenren village, along Benin/Siluko Road, close to Iguobazuwa, the administrative headquarters of Ovia South-West local government area of Edo State, involved an Audi saloon car, marked Edo BEN 539 JN and a white Renault mini truck with registration number Edo DEG 908 XA.
The truck which was loaded with wrapped items, was said to be coming from Lagos State, while the Audi car, fully loaded with palm fruits and traveling from Benin to Siluko side.
It was apparent that the truck, in an attempt to avoid a pot hole on his side of the road, rammed into the Audi acr coming from the opposite direction.
The back tires of the truck pulled off it, dragged the car and caused it to summersault several times, while the truck stopped a few metres away from the spot.
Following the heavy noise of the collision, some esidents of Obarenren village said they came out of their houses to carry out rescue operation.
They said when they arrived at the scene of the accident, they had to upturn the accidented car, tore its doors with an ax before they were able to evacuate the lifeless body of the driver.
It was gathered that the only passenger in the Audi car, a woman, who sustained serious injuries, was rushed to an undisclosed hospital for medical attention.
It was further gathered that the deceased driver and the driver of the truck simply identified as Osaro, hailed from the same village, Iguogun.
One of the rescuers who gave his name as Shadrach, said: "The driver of the truck is silupposed to be very familiar with the road, because this is where he takes every week when returning from Lagos."
Chairman of Ovia South-West local government council, Comrade Destiny Enabulele, who arrived the scene of the accident, directed the Works department of the council to immediately fill all portholes on the road, from the Ovia bridge down to Iguobazuwa.