Edo Prisons Command Confirms Attack, Torture Of State Traffic Officials
Loading ...
Jethro Ibileke/Benin
The Edo State Command of the Nigeria Prisons Service (NPS) Friday confirmed that some yet to be identified operatives of the Command attacked and tortured officials​ of the State Public Works Guard, over the alleged arrest of a prison warder for a traffic offence.
The incident occurred last Tuesday, along Airport Road, in the Oredo Local Government Area of the State, when the warder was said to have been accosted by the PUWOG workers when he was allegedly caught picking up passengers with a blue Audi car around a prohibited part of the road.
It was learnt that the PUWOG operatives entered the car and instructed the Prison officer to drive to their office at Urokpota Hall to answer for his offence.
The warder however allegedly drove his vehicle to a Prison facility on Sapele Road and drew the attention of his colleagues, who attacked the PUWOG workers.
One of State officials, simply identified as Stanley, was said to have been ordered to immerse himself in a pool of muddy water.
The Public Relations Officer of the State Prisons​Command, Mr. Aminu Suleman, who confirmed the incident on Friday, said the Comptroller of Prisons, Mr. Seth Edoghotu, expressed displeasure when he heard about the incident.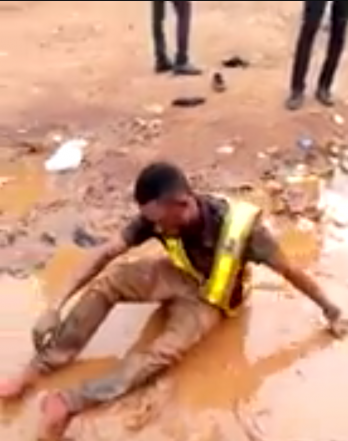 Suleman who spoke to journalists on phone, disclosed that a panel had been set up by the State Comptroller of Prisons to investigate the incident and identify those found culpable.
"The Comptroller of Prisons has set up a high-powered panel to investigate the issue. Since they (PUWOG) have come up with a complaint, the CP has received it.
"He has decided to investigate to know what actually happened and those involved, so as to establish the culpability of our security team," he said.
Also, the Vice Chairman of PUWOG, Mr. Kelly Okungbowa, confirmed that two other staff of the agency were injured during the attack on Tuesday.
Okungbowa explained, "Suddenly, the man drove to the White House (prison premises) on Sapele road. He alerted his colleagues and they descended on them (PUWOG workers). They asked the guy (Stanley) to roll in a poor of mud and started beating him.
"Two other staff sustained injuries; there was a female worker who told them not to kill him. But they hit her at the waist with a gun.
"The policeman attached to us told the prison officials to allow the boy to be taken to the hospital. But they refused; they even pushed the policeman.
"There was a soldier attached to the prison. He was the one that ordered the boy to roll in the mud. We took him (Stanley) to the hospital and by God's grace, he is getting better."