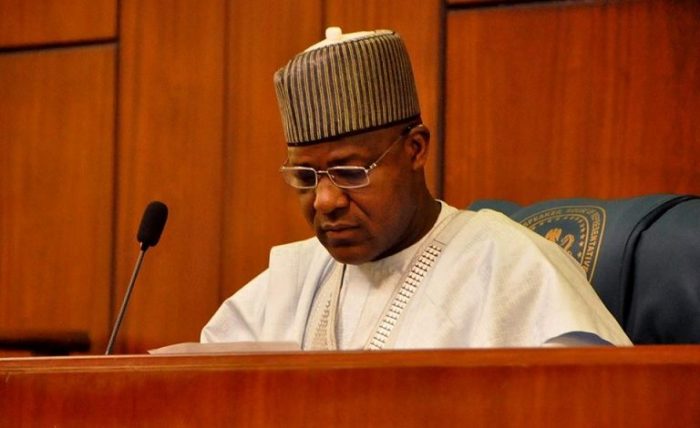 Dogara: Judiciary Should Respect Principles Of Separation Of Powers Or We Part Ways With Them
Loading ...
… says some persons using Judiciary to gag the National Assembly 
Speaker of the House of Representatives, Hon. Yakubu Dogara,  has urged the nation's judiciary to adhere strictly to the principles of separation of powers as enshrined in the 1999 constitution.
Speaking during plenary Thursday, Hon. Dogara lamented that some persons were using some judges to gag the National Assembly, a situation he said, will spell danger for Nigeria's democracy.
Hon Dogara, stated that Nigeria is not a Banana republic and warned that if the judiciary continues to cross the line, the National Assembly will be left with no option than to part ways with them.
"We would part ways with the judiciary if it continues to gag the National Assembly.
There are external forces pushing the judiciary to tackle the legislature. Some persons somewhere are intimidating the nation's judiciary to gag the National Assembly.
"We know that Nigeria is not Banana Republic and operates on basic principles such as rule of law and separation of powers, which states that none of the arms of government should gag the other.
"Just as we cannot gag the judiciary, we also expect same from them. We make laws and the constitution only empowers them to interpret the laws.
"But for us to sit here and the judiciary tells us what we should consider and not consider and when to seat, then we are no longer practicing democracy.
"The way the  judiciary is going, nothing stops them (the judges) from coming tomorrow and saying the national assembly should not sit.
"I don't think it is us that is intimidating the judiciary like is being alleged. It is some people that are intimidating them from somewhere else, to gag the National Assembly.
"We have respected the judiciary a lot and we expect same from them. When the judiciary gets to the level they are now, that spells danger for our democracy. If they insist they must continue this way, we have to path ways.