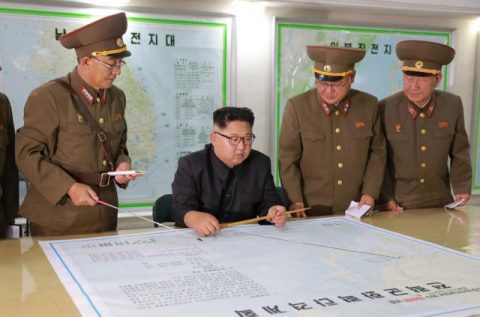 Will North Korea and the U.S. Go to War in 2018?
With the sour note relations between North Korea and the U.S. are ending on this year, the prospect of war in 2018 is all the more real.
North Korea on Sunday called a round of punishing sanctions the United Nations unanimously approved on Friday an "act of war."
"We define this 'sanctions resolution' rigged up by the U.S. and its followers as a grave infringement upon the sovereignty of our republic, as an act of war violating peace and stability in the Korean Peninsula and the region, and categorically reject the 'resolution,'" the North's foreign ministry said in a statement released by the state-controlled Korean Central News Agency (KCNA).
The North stated that the sanctions, drafted by the U.S. and banning nearly 90 percent of petroleum exports to the rogue regime, showed that America has come to fear its nuclear power and has become "more and more frenzied in the moves to impose the harshest-ever sanctions and pressure on our country."
Following the 15-0 vote, U.S. ambassador to the United Nations Nikki Haley said, "It sends the unambiguous message to Pyongyang that further defiance will invite further punishment and isolation."
Haley's hard stance against North Korea is in line with President Donald Trump's warring words with North Korean leader Kim Jong Un, though his tweet after the vote stating, "The World wants Peace, not Death!" seems to suggest otherwise.
In August, Trump said North Korea best not make more threats to the U.S. or "they will be met with fire and fury like the world has never seen."
The approved sanctions also include a ban on North Korean exports of goods like machinery and a requirement that all North Korean nationals working abroad return to the country within 24 months.
Although the United Nations vote was unanimous, Russia's ambassador complained that the U.S. was focusing on sanctions rather than peace talks. The ambassador from China, which is North Korea's closest ally and which negotiated the resolution, warned against "tough posturing and confrontation," according to NPR.
Meanwhile, French Ambassador François Delattre said that "maximum firmness today is our best antidote to the risk of war."
U.S. Secretary of State Rex Tillerson has been the leading official urging peace talks, telling world leaders earlier this month that America will seek diplomacy with North Korea "until the first bomb drops."
But North Korea's stated commitment to continuing to develop its missile and nuclear warheads program suggests the Pyongyang prefers to prepare for war in 2018.