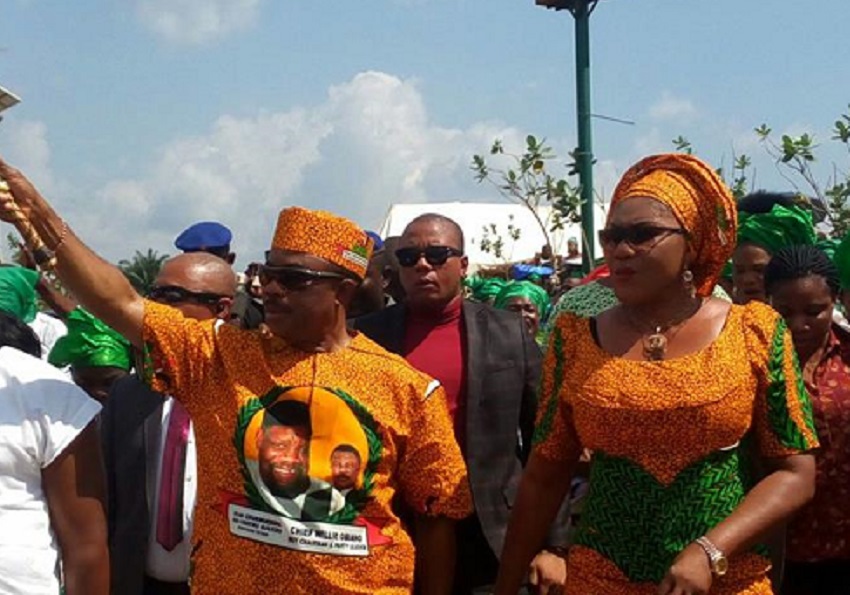 Anambra Guber: ''My Prophecy on Governor Willie Obiano fulfilled''- Ebube Muonso
–
…says Holy Spirit warning Obiano not to disappoint
…Obiano must show love and friendship to Obi now
…Anambra Central senatorial re-run end to deprivation
From Odogwu Emeka Odogwu, Awka
Spiritual Director Holy Ghost Adoration Ministry, Uke Anambra state , Reverend Father Emmanuel Obimma aka Ebube-Muonso yesterday in his Iwene Tansi Parish Umudioka, Dunukofia local government area , Anambra state said his prophecy on Governor Willie Obiano concerning the last Saturday's 2017 Governorship election has come to fruition.
Rev Fr Obimma  said against the insults , uncomplimentary and unnecessary remarks he got from the public when he said he saw plans hatched by the evil ones to manipulate the victory for Obiano hence the Holy Ghost family Uke prayed against the plot at the Adoration ground which averted the plans.
His words: ''I am very happy at the outcome of the election and Anambrarians are also very happy. I predicted it and when the message came, I saw Obiano emerging a winner of the contest but I also saw the evil one planning to rig him out and because he stepped on the Adoration ground, we prayed against the evil intentions of the wicked ones.
I remember what happened after prophesy, people were calling me fake prophet just because I said what the Holy Spirit revealed to me. I told him in confidence that he will win after praying for him and he eventually he won to the glory of God. Remember, I did not campaign for anybody. I am just the mouth piece of God. I am a priest of God, I am neither a politician nor partisan. The Church of God and the party of God is my own party. Holy Spirit endows His prophet with gifts.
Ebube Muonso emphatically told Obiano that: ''It is now left for him to justify the vote by filling in the gap in areas he did not do well in the past three and half years. This is the time for him to re-strategize in order to make the people happy because he knows that some people are not happy with him but for me, he scored above average. He did well in the area of security and payment of workers salary and other areas. The Holy Spirit is warning him not to forget the poor masses.
I also believe that he won the election because people are tired of imposition of candidates and godfatherism in the state. I believe that we have passed the level of godfatherism in Anambra state and that was why they gave him a sympathy vote.
He has a word of advice to Peter Obi who he said did wonderfully well during his administration, saying ,''in fact, he was the one that handed the baton over to Willie. We believe so much in his credibility. I expect him to congratulate Willie Obiano and let love continue to lead Anambra state. Willie should also find a way of extending a hand of fellowship and love to him.
The international best practice is to congratulate or support whoever that emerges winner for peace and unity of the country or state. For me, all the candidates should come under one roof in thanksgiving to God. It is not easy to contest for an election and I thank them for their courage.
''Obiano should keep behind all the tantrums that were thrown at him during the election which were much. People called him names; a thief, a drunkard and so on, those things are hurting but Christ is our ideal. So, I want the governor to find a place in his heart to forgive them.
Rev Fr Obimma further said: ''President Muhammadu Buhari came and campaigned for Dr Tony Nwoye , the APC candidate and again, former president Goodluck Jonathan came to campaign for PDP candidate, Mr Oseloka Obaze. Willie Obiano is the only candidate who has nobody but he has the people. Buhari endorsed Nwoye, Jonathan endorsed Obaze and God endorsed Willie'', even as he described sharing money in order to influence people to vote for them by the candidates as electoral genocide as whoever pays for vote will surly recoup his money.
On the verdict of the Justice Tinuade Akomolafe Wilson led team of Abuja Division of the Court of Appeal, on Monday, ordering the Independent National Electoral Commission, INEC, to conduct a re-run election for Anambra Central Senatorial District within 90 days, Rev Fr Obimma aka Ebube Muonso described it as a welcome development to stop the suffering and deprivation in constituency projects , employment and other benefits to the senatorial zone.
While lamenting the delay in conducting the election by INEC sequel to the different court cases on he issue, Fr Obimma said the constituents of Anambra central senatorial zone have suffered untold deprivation sequel to non representation for several months, even as he urged the electorates to start preparing for the election to have equal representation like other senatorial zones.