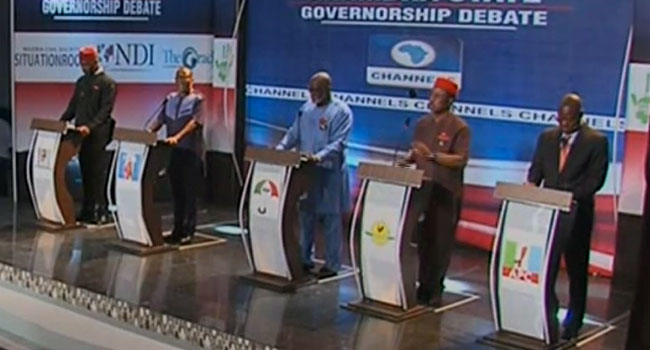 20 Point Take Away From Anambra Debate
1. Anambra is the number one State in Bribery and Corruption – Osita Chidoka
2. Tony Nwoye couldn't answer simple question of why Ndi anambra should trust him after he jumped ship from PDP to APC
3. Channels: Time is up
Tony Nwoye: Don't cut me short! My time is not up!
4. "In 3 years I grew the Anambra economy by 1 trillion"- Gov Obiano
5. "I'm not running against Peter Obi & so I'd rather focus on what I have to do for ndi Anambra "- Gov Obiano
6. "I came, I saw, I conquered insecurity. I have provided dividends from security. About 1 billion naira is brought home by Ndi Anambra monthly"- Gov Obiano
7. "If all other states in Nigeria were to be like Anambra, there wouldn't be recession." – Gov. Willie Obiano"- Gov Obiano
8. "You have to go to Enugu before you get to Omasi in Ayamelum"- Tony Nwoye
9. "The incumbent Governor (Obiano) has tried on security" – Tony Nwoye
10. You don't have money sitting idle when you have the need to pay contractors and build infrastructures… Do you keep money in savings when the people are dying?
11. "We have the highest number of people that pass English and Maths every year in Nigeria" ~ Chidoka.
12. "We need PORTABLE and accessible roads in Anambra" ~ Tony Nwoye
13. "We don't need airport in Anambra" ~ Obaze
14. Chidoka, a former Minister of Aviation could not attract an airport to Anambra State
15. "IPOB members are jobless and some are irresponsible" – Tony Nwoye
16. "PDP Obaze should understand that this is a debate not a revenge mission" – Chinwendu
17. "APC has denied the South East their national cake" – Ezeemo of PPA
18. "Our brothers that occupied juicy positions in the previous administration like, my brother chidoka the former Aviation Minister could not represent us well" — Godwin Ezeemo of PPA
19. "Peter Obi signed cheques running into billions just waiting for me to take over so that the money will be drawn" – Obiano
20. Anambra State Government is not putting one kobo in the airport project. – Obiano