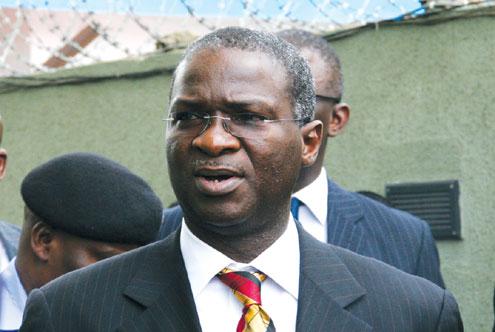 The Honourable Minister of works, Power and Housing you have done great for Mr President in the area of your Ministerial assignment, all with wonderful conclusions.
Look at Lagos, when we talk of Lagos we talk of the whole Nigeria. We make more use of Lagos than our respective communities and states. My present write up is based on reality on ground and not flattering. The reconstruction work on road infrastructure in Lagos is very remarkable and commendable.
Loading ...
The Airport Road and the Apapa, Tincan Island Ports as well as the entire flyovers that are all over Lagos. You take them as a single subject and you are achieving great in these areas. On the Airport Road you applied a genial administrative genius by making sure that the reconstruction is being donein accordance with the rules of the project. You cannot undertake any Federal project without following the due process; this is what you completed and the Governor of Lagos was given approval by the Acting President to embark on the reconstruction. Other states with similar or same problem may not understand this process. It is against this type of situation that some states claim that they are being owed by the Federal Ministry of Works where as such process was not followed.
Coming to the entire Apapa which that very place call for a complete reconstruction having been built around 1960. Apapa is a reclaimed area by Westminster Dredging Company and houses and roads were very much constructed but was left to decay by past administrations. Today, it is going to take current administration of Buhari about one year using the instrumentality of your revered Ministry to reconstruct.
I want to remind the Honourable Minister that the defect of the flyover between Nigerian Brewery towards National Theatre to Apagbon should be done alongside with which what you are doing at Apapa now. Nobody remembers that the flyover from Leventis Motorsup to Ijora and from 7up Ijora joining towards Iddo road were done by Guffenti Construction Company at the cost of about #13million and since then it has never, never been repaired until you came in. you have done so much in all these areas. The only road now that is crying is that 50 miles Lagos-Badagry Express road. Until one plies that road he will not realise the suffering of the people in that area. Take for instance ASCON, and Federal Government Institutions in that area; before one gets to that area from Lagos it will be very difficult due to bad shape of the road. The people living in that area may resort to using old Badagry-Otta road if something urgent is not done.
On the outer parts of Lagos State now under Buhari regime, a lot of effort is being made now to actualize the construction of the 2nd NigeriaBridge. I know the outer road from Asaba to the 2nd Niger Bridge and from 2nd Niger Bridge to Ozubulu in Anambra State is in progress. That project to the best of my knowledge since 2006 is being flagged off and flagged down until Buhari regime came in to crystalize the whole reality. In Anambra the Oba-Uga Junction-Arondizogu and Okigwe junction had been a death trap. May I alert the Honourable Minister that the road is a very important road left undone for over 35years ago, we know that Mr President is aware of these roads and urge you to do something on those roads. Another one of interest is Edo (Benin) bye pass which has completely collapsed and become impassable. It is one of the Federal roads that decongest Benin; and Benin-Auchi road is in complete comatose just like East-West road. These important roads are needed by the people. Above all these your Excellency, you have done well.
On the areas of Power infrastructure, it is only now you have started reconstruction of power lines because before now everything about power was in comatose. We can now boast of power supply. For instance in Lagos power supply now is near perfect and adequacy. The same thing applies to other parts of the country. I want to say one thing I have observed which is contained in my previous write-ups that Mr President having received the progress reports of all these infrastructural resuscitation came back to life with a lot of joy and good health. The same thing happened when economy came out of recession and the discovering of all looted funds as a result of the good work done by the EFCC and other agencies connected. All these gave Mr President the urge to attend the UN72nd General Assembly. I don't forget when he signed Executive order concerning all the issues and areas of the Nation's looted funds.
Further to this, the recent Peace initiative by the Northern States Governors which has added to the good health of Mr President.
In conclusion, I want to commend all the Ministers and Ministries for performing wonderfully well even when the President was on medical vacation in London. Special thanks to the Ministry of Power, Works and Housing while the Labour Ministry must be commended for successfully handling all Labour issues and negotiations.
–
Umezekwe is APC Chieftain based in Lagos.