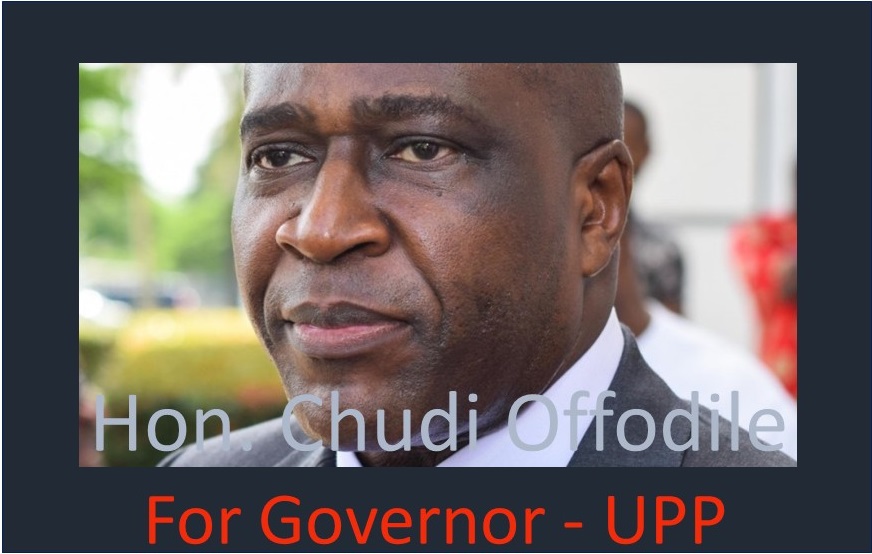 PRESS RELEASE
Loading ...
Sequel to our measured response to Hon. Chudi Offodile over his malicious, unsubstantiated and unprovoked vituperations against the United Progressive Party (UPP) and its leadership, we discovered a slight mix-up while narrating Hon. Offodile's political antecedent. Hon. Chudi Offodile did not actually foray into APGA. Suffice it to say, that he ran for governor under PDP and lost at Primaries in 2003. He manipulated himself into the House of Representatives, deploying every available intrigues and machinations known to him to deny his opponent, Hon. Osita Egwuatu his nomination to represent the PDP in that election. The Courts removed Hon. Offodile through a well-considered judgment and restored Hon. Osita Egwuatu as the duly elected candidate for the Federal seat that Hon. Offodile fraudulently occupied for a while. In 2007, Hon. Offodile contested at the Primaries of PDP to become the Senatorial candidate of the party, he lost. In 2013, he ran for PDP National Publicity Secretary, he lost to Chief Olisa Metuh.
In all of these serial losses, Hon. Offodile blamed everybody else but himself. It should therefore not be surprising to the public that Hon. Offodile will fabricate scenarios to shift the blame for his abysmal performance at UPP Primary Election at Awka, Anambra State to the leadership of our great party.
The question any discerning member of the public should ask is who has the motivation to hire thugs and cause public disorder that compelled the Police to fire teargas canisters to disperse the melee that occurred at the venue of the accreditation of delegates to the Primary Election?
Why is it that it was a few minutes that after Hon. Offodile handed over his letter of protest to the Congress Committee conducting the accreditation exercise that all hell was let loose, even after over 1000 delegates had been accredited successfully and conveyed to Emmaus House, venue of the Primary Election?
The story of the various intrigues and subterfuge deployed by Hon. Offodile to scuttle the well-planned Governorship Primary Election at Awka are still unfolding. The Police are yet to make their investigation public. An aspect in which Hon. Offodile sponsored litigation to scuttle the Congress well in advance of the date of the Congress is still pending at the Federal Capital Territory (FCT) High Court, Abuja and will be heard on 29th August, 2017.
CHIEF DIKE OGBUEHI
NATIONAL PUBLICITY SECRETARY