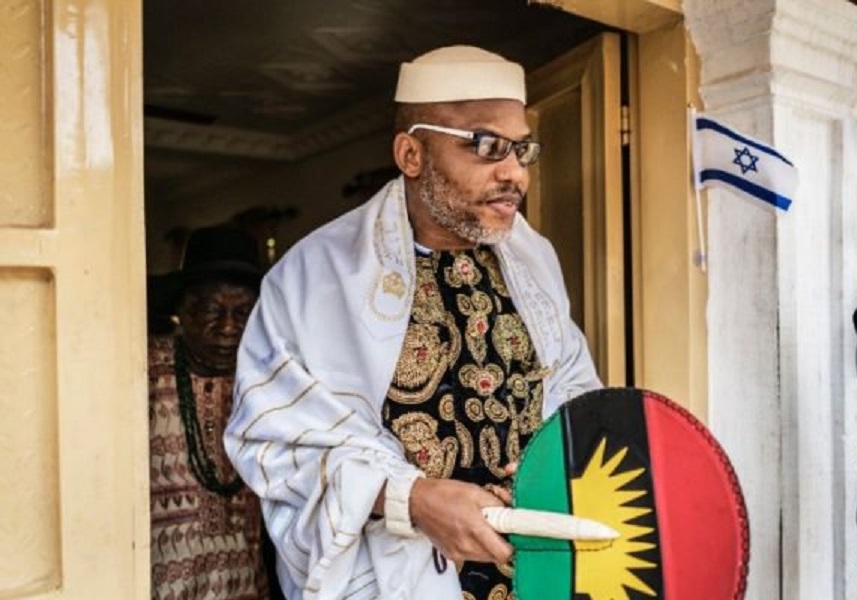 Some of the confirmed prophecies of Mazi Nnamdi Kanu the leader of the Indigenous People of Biafra (IPOB) that have come to pass. These clear and unambiguous predictions, unlike that of other celebrity 'Men of God', has been fulfilled within the shortest possible time.
Our leader and prophet of our time in his broadcast before his arrest on 14th October 2015 said that Hausa Fulani supremacists are coming to reposition the security agencies by sacking all competent hands to replace them with their kinsmen in order to drive their ethnic domination of the South, these marauding hordes which turned out to be Fulani herdsmen, will be armed and encouraged to slaughter Southerners with impunity and their masters in Aso Rock will protect them. "They are coming to ensure that my people are enslaved forever. The people will cry and weep but no one will come to their rescue. Those who do not believe me will soon see it happen before their eyes". Nnamdi Kanu, 6th Feb. 2014. Exactly what is happening today with rampaging Fulani herdsmen decimating communities with the encouragement and protection of the Buhari led Fulani presidency. Despite these heinous and brazen carnage, wanton murder and destruction of communities across Southern Nigeria, no single Fulani man has been brought before a court or charged under the laws of Nigeria.
Mazi Nnamdi Kanu predicted that Fulani herdsmen will take over the entire South in continuation of their age old agenda to Islamize Eastern Nigeria and those parts of Yorubaland yet unconquered after the Fulani invasion and conquest of Illorin Kwara State an ancient Yoruba land which is today owned by Fulani Sokoto Caliphate with an Emir instead of Oba. In the words of Kanu, "they will brazenly seize our land under the pretense of creating grazing fields for Fulani nomads and their cattle and when the conquest is complete, we will become their serfs forever as Yoruba people in Illorin are today" Nnamdi Kanu, 12 Oct 2014. This Fulani Islamisation agenda is gathering ever greater momentum with the removal of Christian Religious Knowledge (C.R.K) from schools curriculum and replacement with Arabic and Islamic studies. If this trend is not halted, Judeo-Christians of the East will become endangered species.
In the words of prophet Nnamdi Kanu, "they (Fulani) will use the security apparatus to advance the agenda of their ethnic group, my people will suffer. Then a group (Fulani herdsmen) deadlier than Boko Haram will emerge, they will seize our farmland, rape our women, kill our people and their masters will protect, defend and even arm them because their sole agenda is to enslave us Biafrans forever. Those who cannot see it now, will soon see it. The hatred in their soul for my people is legendary. They do not see us as humans. They kill, they slaughter, they burn and they destroy. Mindless bloodletting is in their DNA. My people are in trouble". Nnamdi Kanu, 2 Dec. 2014
Unity flows with love and mutual respect. This artificial unity with people who see you as an infidel and unbeliever is fake and dangerous. We are better off on our own. They kill with impunity, yet they say we must stay together. They have only one agenda, to chase away Jonathan and enslave us forever. They are coming with vengeance, anger and revenge for the years they stayed out of power. They plan to intimidate, silence and enslave us. Their world view is so strange and different from ours, we are in big trouble". Nnamdi Kanu, 16th Jan 2015
"All we ever wanted is freedom, to enable us realize our full potential on the piece of land God Almighty placed us in on this planet. But there are persons whose sole agenda is to intimidate and dominate others. They hate freedom, justice and fair play. They (Fulani) conquered and enslaved Hausa people for centuries, who in turn helped them to conquer and enslave the Middle Belt including certain territories of Yorubaland, now they want to extend and replicate this culture of dominance down South. They use terror as a weapon of intimidation, they have no regard for non-Muslims, they hate us with passion, yet they won't let my people go. Their only desire is to dominate and oppress others, once they are out of power; they immediately resort to violence which often culminates in pogroms or Sharia law introduction (2000/2001) or Boko Haram (2011)".
"They are the true enemies of peaceful co-existence. We want freedom, we respect justice and equity, and above all, we respect the sanctity of human life, these people do not. They use terror to intimidate and subdue in order to rule over everybody else. Nnamdi Kanu, 15th March 2015. These brief quotations and many more from our leader over the radio have all come to pass before our own very eyes and the prophet is still very much around. Osinbajo should beware of the pit-falls ahead because Biafra restoration is irreversible because it is a divine project.
Mazi Nnamdi Kanu the living prophet of our time in his broadcast over the air on the 6th November 2014 said that Islamic terrorists will overrun Britain if they continue to be against Biafra which is happening today. He was also on record as having prophesied that a time will come when  Arewas will ask Biafrans to take their trouble and leave the northern part of Nigeria. Today, has it not come to pass with issuing of the quit notice by Hausa-Fulani oligarchs through their youths? There is nothing that this great prophet Nnamdi Kanu said which hasn't come to pass. No wonder people kneel and ask him to pray for and with them. Nnamdi Kanu is a confirmed prophet and visionary leader of this generation. When he said Igbos and other Southerners will be killed in the North, that is exactly what is going to happen. Every Southerner in the North should leave immediately.
COMRADE EMMA POWERFUL MEDIA AND PUBLICITY SECRETARY FOR IPOB