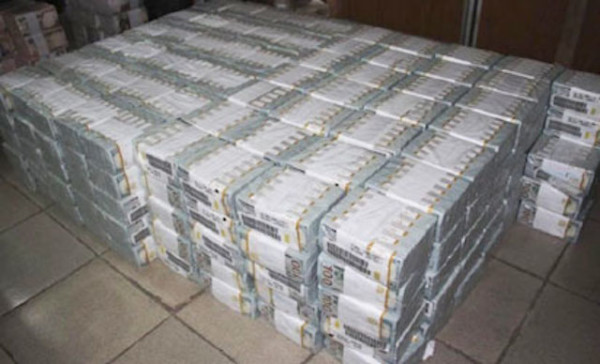 The farcical story that NIA, Nigeria's external secret Police has claimed ownership of the large hill of $43.4m, £27,800 and N23.2m heretic is total hogwash, bunkun and balderdash. Let this government and its minions credit Nigerians with some modicum of sense and capacity to reason, even with their valiant attempts to cow, browbeat and intimidate all opposition elements and critical voices in their so called corruption war. At least, not even the terror halo cast on our individual and collective psyche has dulled our analytical minds.
The entire theatricality and Baba Sala's Alawada Kerikeri bofoonery ought to be reserved for some circus show at the National theatre or Traffagal Square, where comedians and humour merchants entertain. The emergent facts do not show NIA's ownership of the money, but grand cover-up of a serving minister's ownership of the money. It is so, so sad that all these national diversions are simply geared towards highlighting and emphasising the omnipotence and indispensability of just one man, Ibrahim Magu, as Executive Chairman of the EFCC. We should build strong institutions, not strong individuals. Before Ibrahim Magu, there was a Nuhu Ribadu; there was a Mrs Waziri: and there was an Ibrahim Lamorde. After Magu, there would still be another EFCC Executive Chairman. All these so-called humongous recoveries of orphaned monies are simply geared towards showcasing ineffable efficiency, effectiveness and matchless proficiency. It simply doesn't work that war. In the USA, wherefrom we borrowed our presidentialism, the equivalent agency works silently behind the scene, only seen, but never heard, except where it becomes absolutely necessary. But, here in Nigeria, the EFCC engages in grotesque media trial, hifalutin and shocking disclosures of orphaned monies whose destinations after the media hype is never known. Where are all the alleged recoveries of vast sums, attached properties, etc, made by the EFCC, kept and how much are they? When asked this question by the Senate during screening, Magu told a shocked and bewildered Nation he did not know!
We seem now fixated to name, shame and humiliate Nigerians with the paint brush of shame, odium, obloquy and denigration. How can about  N15 billion be found in highbrow Osborne Road, Ikoyi, by no means a back  squalid street? How can a foreign arm of the Nigerian secret Police, the equivalent of CIA, keep such hard currency in cash at an unguarded apartment, tucked away with many other apartments in a block of flats, not in a separate heavily fortified and fiercely guarded  stand -alone building that has "keep off" carefully imprinted on it? What was it meant for and who approved it and in which budget? Who was the whistle blower that could identify that such money was "hidden" in the bedroom in flat 7A, leaving out flat 7B, yet not knowing who kept the money there or it's ownership? Why was EFCC not pictured or videod going into the apartment, before we suddenly saw an arranged "counting" of money? Are there no CCTV in such a highbrow wealthy society members abode? Can we see the footages Please? Only last week, N49m orphaned sum was "arrested" at Kaduna Airport! Then, suddenly another sum of orphaned N448m was "discovered" in an ownerless shop in Victoria Island. Who owned the plaza? Who sold there? Are there no CCTV there? Can we see them please? The truth is that all these simulated "arrangee" "discoveries "can only temporarily divert attention from the hunger, squalor, fear, disease, not performance and cluelessness of this government. But, unfortunately, even lies have their expiry date. Truth is inexorable, immutable and eternal. The chicken will finally come home to roost.