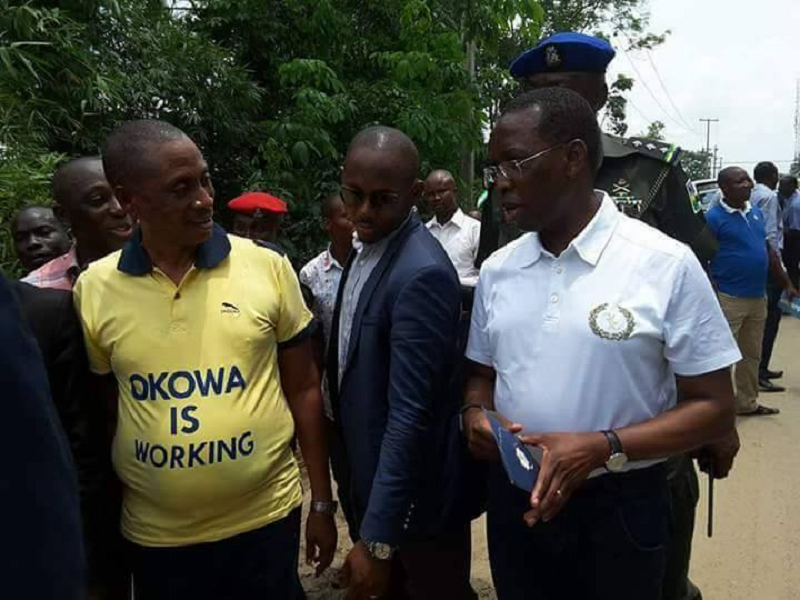 Some users of one of the popular social media platform, FACEBOOK, has taken a Commissioner in the Delta State Oil Producing Areas Commission (DESOPADEC), Board, Mr Amos Itiwe, to the public domain over his pot belly.
Mr Itiwe, member representing Ughelli South in the Board of DESOPADEC, wore a T-shirt with the inscription, "Okowa Is Working", while teachers in the state are currently on strike due to non-payment of salaries, arrears among others benefits.
Akpodhoma Michael Ajirioghene Mikoko said, "Who hunger dey beat dey get this kind belle?
While Obona Ikpawo said, "Yes, I can see the evidence now".
Comr Atariata Raphael Ufuoma, who also commented on the post, noted, "Yes that is not enjoyment, its a pregnant man and need operation to remove it".
Others who commented include: Ufuoma Abundance Ekaba, who said it is the Photo of the year, Marcus Iduzee said who tells you that there is hunger, Irogbo Eloho James Its self-evidence, Tony Ejumejowo Stomach infra., Akakabota Alex Based on logistics… Who get this kind belle no need empowerment? Evelyn Ekee Mike na my personal person u dey sample like this soo? I shall meet you in the……….
Stella Okotete Osadjere Guess his stomach is a sign of the work or projects, Abroad Omodeka The Belle too much, he could finish the state allocation with this kind of stomach, Abraham Uruefe The guy relieved his wife the burden of Carrying her pregnancy for another nine months.
Edwin Onoyona Hmmmmm why won't he say Okowa is working when him chop bele full. Make Delta state teachers and their children catch am with that him bele. Lol, they scorned the DESOPADEC commissioner.
Meanwhile, Mikoko, also tongued lashed the over-zealousness of a security officer who tried to keep Itiwe who was Okowa's Campaign Coordinator in the 2015 governorship election from him.
"This Security boy no be better person, Chief Amos Itivwe who was Governor Okowa campaign coordinator in Ughelli South LGA, wrote "Okwa is working" with a SAMPLE why is the boy trying to block him from the Governor? He asked.