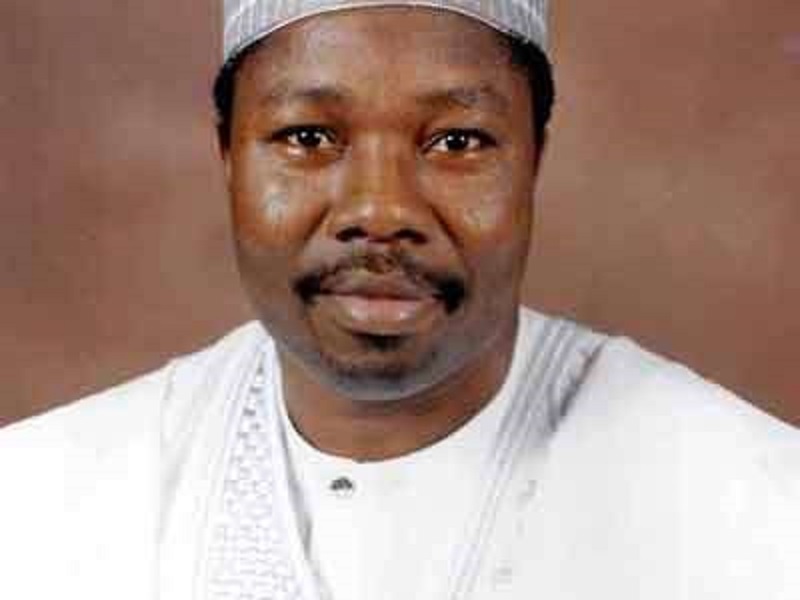 A former Managing Director of the Daily Times Nigeria Plc, Dr. Adinoyi Ojo Onukaba, is dead.
He was aged 57.
Onukaba died at about 6pm on Sunday at a village near Akure, the Ondo State capital.
The spot is said to be about 10 minutes to Akure.
He was on his way back to Abuja from Abeokuta, Ogun State, where he had joined other dignitaries to attend the inauguration of the Olusegun Obasanjo Presidential Library.
One of his relations, Yusuf Itopa, confirmed his death to the News Agency of Nigeria in Lokoja on Monday.
Itopa said that late veteran journalist turned politician was knocked down by an oncoming vehicle, while running into a nearby bush to escape an armed robbery attack.
Itopa, who is devastated by the death of Onukaba said three of them, including his driver, were traveling when they ran into a blockade mounted by armed robbers.
He said Onukaba's corpse was later deposited at a mortuary in Akure, from where it will be brought for burial on Monday (today) in his hometown, Ihima in Okehi Local Government Area of Kogi State.
Onukaba, who was Senior Special Assistant on Media to former Vice President Atiku Abubakar, had earlier lost his first wife, Rachael, about five years ago.
He, however, remarried in 2015 to Memunat
Onukaba is survived by three children – two girls and a boy.
He started his journalism career in The Guardian in 1983.
A biography provided by a close friend of Onukaba said he was born on March 9, 1960 in Oboroke-Ihima, Okehi Local Government Area of Kogi State to the family of Mallam Shuaibu Onukaba and Hajia Aisha Onukaba.
He obtained his first degree in 1982 in Theatre Arts from University of Ibadan.
He observed his National Youth Service Corps at Radio Nigeria, Ikoyi, Lagos in 1982/83.
He joined The Guardian newspaper as one of its pioneer reporters in 1983.
He rose to the position of News Editor before travelling out in 1989 for graduate studies.
He bagged Master of Arts degree in Journalism from New York University, New York, USA.
He worked as a Research Officer at the African Leadership Forum, New York.
Onukaba also served as the Information officer, Division of Coordination of Humanitarian Affairs, United Nations Operation in Somalia between 1994 and 1995.
He obtained his Doctor of Philosophy degree in 1996 from New York University.
Dr. Onukaba became Adjunct Professor of Mass Communication at the School of New Resources, College of New Rochelle, New York in 1997.
Between 1997 and 1998, he worked as Press Officer, Department of Public Information, United Nations.
In June 1998, he was sent to Iraq as an Information Officer, United Nations Office of the Humanitarian Coordinator.
Upon his return to Nigeria in 1999 to participate in the present democratic dispensation, his sterling qualities and ability to succeed caught the attention of former Vice President Atiku Abubakar, who appointed him as Special Assistant on Media Relations.
He had known and related closely with both Abubakar and Obasanjo since 1984.
Onukaba got to the peak of his journalistic career in August 1999 when he was appointed Managing Director/Chief Executive Officer of the then ailing Daily Times of Nigeria Plc.
He worked tirelessly to reposition the Daily Times and made it attractive to investors.
The company was privatized in 2004.
Onukaba returned to the Presidency as Senior Special Assistant to the former Vice president Atiku Abubakar on Public Communications between July 2003 and April 2005.
Beyond Onukaba's humble exterior lies impenetrable armour of principle and dedication to duty.
In December 2005, the Okun Youth Solidarity Forum, led by Hon. Adeniyi Sunday Bello, honoured him with the "Pillar of Youth Award" in recognitioin of his services to the State.
Earlier in 2001, the then Governor Abubakar Audu of Kogi State honoured him as one of the distinguished citizens of the state.
Onukaba has received numerous other awards for his decency, integrity, creativity and kindness.
Onukaba, a seasoned journalist, playwright and publisher of high repute, has published so many books and journals, including: "In the Eye of Time" – a biography of former President Olusegun Obasanjo. "Atiku Abubakar"- a biography of former Vice President Atiku Abubakar. "Born to Run" – a biography of late Dele Giwa, co-authored by him and Dele Olojede.
Some of his plays include Her Majesty's Visit, A Resting Place, Tower of Burden, The Virginity Flee, The Lone Ranger, Bargain Hunting, and Soommalliyya.
His play: "The Killing Swamp," was one of the three finalists for the 2010 Nigeria Liquefied Natural Gas Literature Award.