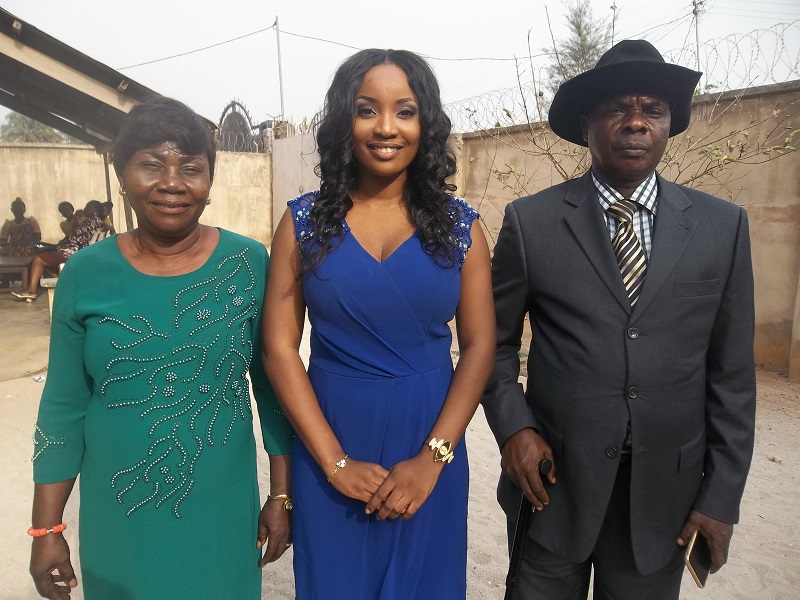 …as 21-year old girl breaks jinx
It was pomp and celebration in Ilile-Ohaji, an agrarian community in Ohaji/Egbema Local Government Area of Imo State as a 21-year old daughter of a retired policeman, Chiamaka Prisca-Achonwa emerged the first indigenous medical doctor coming from the community.
Dr. Achonwa, was among 44 medical students who graduated from Abia State University Uturu in 2016, but held their induction ceremony on Tuesday, February 21, 2017 at Uturu.


Dr Achonwa, who spoke at a reception in her honor in Owerri, said she was elated to have broken the jinx of being first indigenous medical doctor in Ilile community.


She said her aspiration to study medicine was a childhood dream followed with hard work and combined divine approved and supported of her parents.


Achonwa said she was not perturbed if anybody from her community had ever studied medicine or not before venturing into the programme, but was strongly inspired to pursue her life dream and improve on healthcare of her people.


The young doctor however used the medium to call on Nigeria government to invest heavily in medical infrastructure in Nigeria with a view to reversing the current trend of
foreign medical mission.


"Medical doctors in Nigeria are well trained to provide the best healthcare services, but most times the facilities are not there to support their operations.


"If government can look into this area and improve the medical facilities, this practice whereby most Nigerians jet out of the country for medical treatments abroad would be
reversed'', she said.


Achonwa encouraged the younger people especially those from her Ilile community to also have great vision in life and work towards realizing them, adding "through positive
dreams, one could end up great in life.''


On the factors behind her focused to her studies in the face of cosmetic lifestyle of some Nigeria undergraduates on campus, she noted that most students who run around politicians abandoning their studies are usually driven by greed.

"It is greed that often expose young ladies in school to run after politicians, anyone sincere to herself will sustain herself in school with whatever she gets from her parents and close relations'', she noted.


A prominent indigene of Ilile community and Imo State correspondent of Daily Trust newspapers, Mr JohnKennedy Uzoma, said the people would oragnise thanksgiving to formally thank God for making it possible for Ilile to produce a medical doctor. 


The father of the young doctor and retired police officer, Chief Godwin Achonwa, said he was thankful to God that her daughter emerged the first medical doctor from his community.


Achonwa said as a policeman he never collected bribe to invest in the training of his children, saying "my motivation in ensuring that all my three children became university graduates was to change the impression that Ohaji people don't aspire for things higher in life.''

Mrs Stella Achonwa, the mother of Chiamaka described the graduation of her daughter as `answered prayers to the family' and urged parents to give equal opportunities to the training of their female and male children.