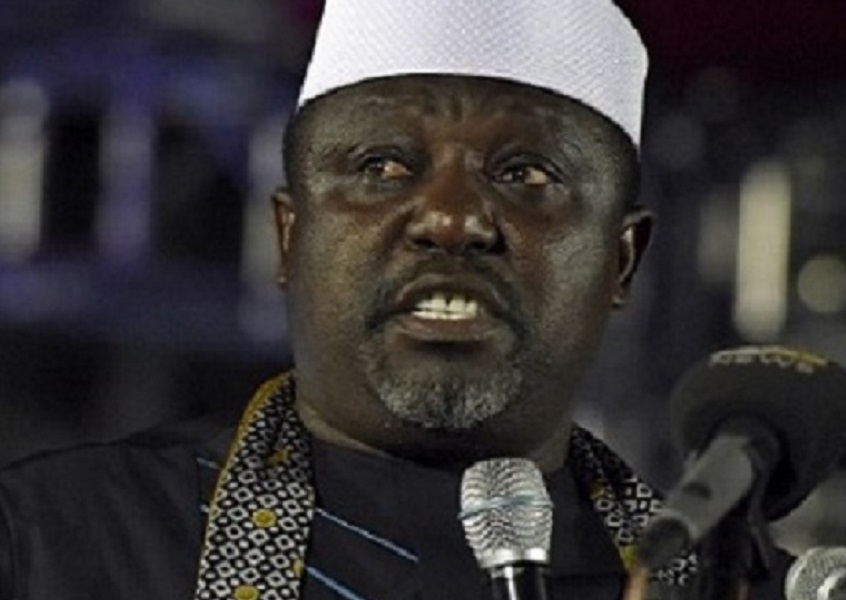 …Rochas And I Are Inseparable –  Madumere Declares 
If the information filtering in to 247ureports.com is anything to go by, then the ambition of the deputy governor of Imo State, Prince Eze Madumere to take over from Governor Rochas Okorocha as the helmsman of the state in 2019 may have all but dashed.
This followed the information making the rounds that Madumere was ordered out of the governor's lodge by the governor, who it was learnt, the deputy governor went to meet to officially inform of his(Madumere's) ambition to run for the office of the governor of Imo State come 2019 governorship election.
It was gathered that the deputy governor had visited the governor after the latter had said in a meeting that it was only Senator Ifeanyi Araraume who had told him of his intention to contest for the position of the state governor in 2019 and that any other person who had the ambition to contest should start immediately to hold secret meetings before open campaigns would be announced by the Independent National Electoral Commission (INEC).
The governor at the meeting also told his party members that "I have not endorsed anybody as governor for 2019, nobody has informed me he wants to be governor except Senator Ifeanyi Ararume …. I will like to say that any of you willing to contest election in 2019 should commence holding stakeholders meetings whether you are still a serving officer or not, we are members of one party and everybody is free to contest elections".
Trouble however was said to have started when Madumere told Okorocha the reason for his visit and that in accordance with his (Okorocha's) public statement that he had not endorsed anybody, that he would want to succeed him in 2019 as the governor of Imo State.
According to insider sources, no sooner had Madumere begun to talk about his 2019 governorship ambition, than Okorocha shouted him down "Shut up! Shut up!! Shut up!!! So, all you came here to tell me is that you want to be governor. You are an ingrate. I made you chief of staff and deputy governor.
You didn't tell me when I put you in those positions

. I want to tell you that you are a co-governor with me. So, don't bring this issue before me again".
However, in what seemed to be a reaction to the rumour, the deputy governor in a statement made available to newsmen, said he had resolved
to live and die with Okorocha, adding that the governor remains his leader, mentor and role model.
In the statement signed by his Special Assistant on Media, Uche Onwuchekwa, the deputy governor made the declaration while receiving the Executive members of 'Rochas People's Movement' when the group paid him courtesy visit in his office.
He described Rochas People's Movement as a major structure for Rochas Okorocha which according to him has done many exploits in the past, even as he commended the leadership of the organization for spreading to all the States in the South-East and South-South.