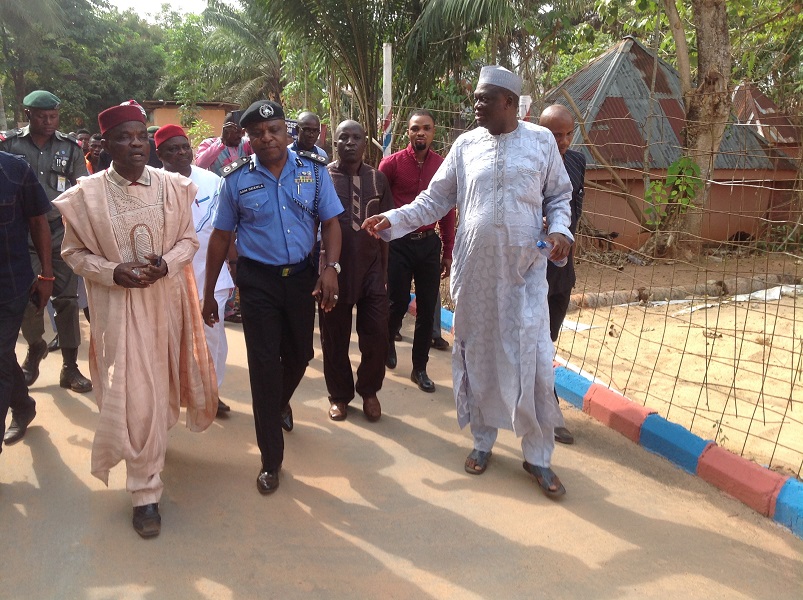 From Nweke Nweke, Awka
Heads of security operatives in Anambra State including the Commissioner of Police, the Director of Department of State Security DSS and National Drug Law Enforcement Agencies NDLEA, have  promised to continue to work hard and collaborate with the people of the State to maintain existing tight security at all times.
They gave the assurance when they paid a courtesy visit to the Proprietor of Rojenny Tourist Village, Oba in Idemili Local Government Area of Anambra State, Chief Rommy Ezeonwuka at the Tourist Village recently.
The  Anambra State Commissioner of Police, Mr. Sam. Okaula, who spoke on behalf of others said they were committed to ensure that the people of Anambra State sleep with their two eyes closed at all times.
Okaula said"The Governor has done everything to ensure that there is security in Anambra State. We will ensure that there is security. That is our commitment. The Governor is committed. The Governor that wakes up Commissioner of Police by 2 am because a woman's handbag was snatched at Upper Iweka showed he is committed. We will cooperate among ourselves to do our job."
He promised that they will continue to collaborate with the people because security is  the collective responsibility, urging the people to give them information even as he promised that Police, DSS or NDLEA will not betray people that passed useful information leading to apprehension of suspected criminals in their hide outs.
Lauding Chief Ezeonwuka for his service to humanity, the Commissioner said  if people have given their times and resources to invest like Chief Ezeonwuka, where people would come  and be trained on how to meaningfully engaged police and other security agents would have less job to do.
Chief Ezeonwuka in his speech said that a lot of good things have happened in the Tourist Village, noting that the stadium has played host to international football teams from Egypt, Algeria, Ghana and others and also played host to Nigeria Under-17 team  that eventually won the Japan 1993 FIFA U-17 World Cup.
The proprietor said he was overwhelmed by the visit of heads of the security agents to his Tourist Centre
Some community leaders, businessmen, youth and market women in Oba witnessed the visits. Among them includes chairman of Ogiris Igbo Foundation, Dr Linus Uchey and other members of the foundation, Mr Onyeoma Adaogu, Mr Dozie Nweke and others.