Perhaps one role Chief (Mrs.) Ebelechukwu Obiano never imagined playing is that of "Mama Anambra" which literally means Mother-of-Anambra-state. But the assumption of office as Governor of Anambra State on 17th March 2014 by her husband, Chief Willie Obiano unwittingly thrust her forward for the role albeit with understated responsibilities.
Though not the eldest amongst Anambra women, Mrs. Obiano undoubtedly assumed the responsibility bearing in mind the words of Robert A. Heinlein on the role of mothers; "Being a mother is an attitude, not a biological relation." This aphorism obviously informed the commitment and disposition of the wife of the governor the moment she got into her stride, such that within a very short-while she had acquitted herself creditably as "Mama Anambra" to the admiration of many who easily confirm that she wears the role like a fitted clothing with humility, dignity and candor.
However, to discerning observers, that Osodieme is the quintessential Mama Anambra is not surprising.   Convinced that "whenever, wherever life is touched, government has succeeded," Mrs. Obiano strove to support her husband, the governor in the delivery of good governance to Ndi Anambra with the programmes of her NGO, Caring Family Enhancement Initiative (CAFÉ). To date, CAFÉ which prides itself as a beacon of hope and empowerment for the less privileged, physically challenged and indigent widows has provided training on various skills with start-up capital to over two thousand, two hundred and fifty women and youths.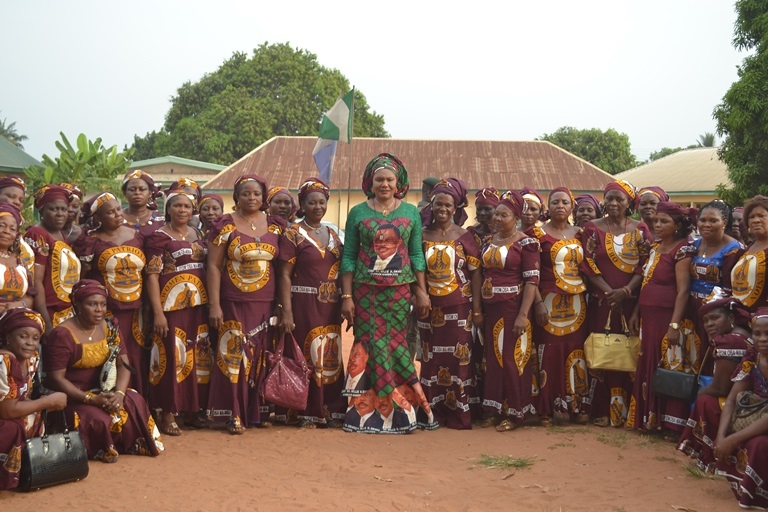 Other achievements of CAFE include; building of ten houses for indigent widows, construction and handover of nineteen boreholes in communities across the state, sponsorship of free surgery for 30 children with cleft lip/cleft palate congenital mouth disorders, free prosthetic limbs to one thousand physically challenged, wheel chairs for over five hundred persons, and CAFÉ Market toilets in rural markets to promote hygiene and dignity of market women as well as  eradicate open defecation which prompted UNICEF and the European Union to crown her as Water Sanitation and Hygiene (WASH) Ambassador.
Whereas governor Obiano is widely acknowledged to have performed exceedingly well at his job in barely three years, the wife Osodieme, who has no constitutional mandate and no funding for her progammes has equally brought to bear her abilities as an amazon and great mobilizer which stood her out as the best surrogate for her husband among Ndi Anambra of all ages. Worthy of note is her attraction of support and sponsorship from non-indigenes and prominent sons and daughters of the state from different political persuasions who freely donate in support of CAFE's charitable projects.
It is instructive that Akpokuodike encourages his wife to excel. First he gave her an office space where she holds regular consultations and interactions with groups who visit to share concerns on issues of interest to them and the state. To Osodieme's credit, the direct interface has allowed her to engage soft issues, concerns and multifarious challenges thrown at the door-step of government by concerned citizens. Suffice to add that such citizen concerns which often don't get immediate attention from the governor or his aides due to its mundane nature compared to more important state matters, are shared with the wife and where necessary advice and solution proffered for the benefit of the respective group or citizens. Thankfully, the office of the wife of the governor through regular interface with the women-folk has become an effective vehicle and feedback mechanism to the governor.
Apart from regular consultations, Mrs. Obiano works steadfastly to ensure that Anambra women and various groups feel the impact of government so as to eventually contribute their quota to the socio-economic development of the state. This was the thinking behind her resolve to embark on tour of the 179 communities in Anambra in the last quarter of 2016. Already she has visited 36 communities in six local government areas where she interacted, listened to challenges and showered some indigent widows, physically challenged, less privileged persons and children with Christmas gifts.
It is also heartening to note that Mrs. Obiano is trying to help Anambra women surmount the prevailing economic recession by hosting each group to a parley and Christmas celebrations to lift their mood and dispel the pervasive national gloom occasioned by the harsh economic melt-down. Seizing the moments, she highlighted numerous achievements of the governor and shared morale boosting banters laced with exhortations to be strong in both individual and collective quest for a better Anambra.
Such is the impact of Mrs. Obiano as Mama Anambra, easily the acknowledged voice not just for women but for the voiceless, indigent widows, the physically challenged, less privileged, children, youth and the rest of Ndi Anambra.
Emeka Ozumba a Public Affairs commentator writes from Enugwu-Ukwu.