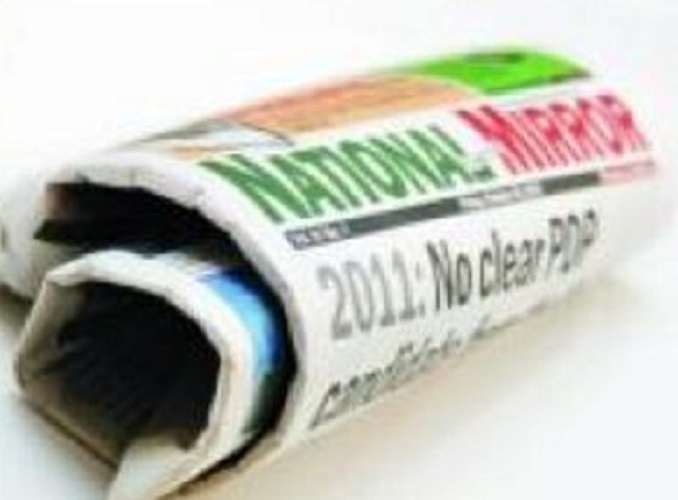 A Correspondent with NATIONAL MIRROR Newspapers in Abuja narrates his encounter with armed robbers
on Friday
. Excerpts!
On Friday January 6, my vehicle broke down along Ife-Ilesha Road, about 10 kilometres away from Old toll-Gate. As I was making frantic calls a four-man gang emerged from nowhere and dragged  me to the bush, about a kilometre away from the Expressway.
They were armed with cudgels, daggers and a hand-made pistol. After robbing me of the N17,000 in my pocket, they snatched my two telephones-a blackberry classic worth over N100,000 and a small Samsung Galaxy. They frisked me, ransacked my pocket and got my First Bank ATM card. Before demanding for my pin, they tied me with my belt and underwear and lied me faced down.
They threatened to kill me if they found out I gave a wrong PIN number. At that time, I knew I was involved in a game of adventure to which I needed to play the honest boy. The one holding the ATM departed for the bank, while one of them, the man with the doubled-edged dagger and blood socked gun, kept vigil on me. I was bleeding profusely, but was warned not to scream, saying that if I tried to attract attention, they would just pull the trigger. The most striking irony of the whole episode, which became a blessing in his guise, was that the leader of the gang said he was a native of Ijere-Ekiti, a neighbouring community to my village, Ikoro-Ekiti in Ijero LGA of Ekiti State. He rebuked the guy who stabbed me.
I was held for about one hour. The guy who stabbed me, kept vigil on me and finally received a call. The call, I guessed, confirmed that the pin was correct and withdrawal made. It was after then I located my way back to the road. On getting to the bank, I found out that N100, 000 had already been withdrawn from my account.
The sad story arising from the incident was the attitude of Nigerians to distress calls.  About 30 minutes after I escaped, with blood dripping from my hands, no help came from commuters. Even one or two vehicles with police escort refused to wait to render help.
However, help came from a man who emerged from a nearby community with toying vehicle. To God be the Glory. I am pleased to say that I have arrived Abuja, after spending three days in a private Hospital in Ado-Ekiti.
When I reported the matter with the police at the Old toll Gate, they were asking me questions including, if the robbers have tattoo marks or if any of them was stammering.
These questions have fuelled my speculations that the police knew about such incidents.
Olufemi Adeosun,
National Mirror Newspapers, Abuja