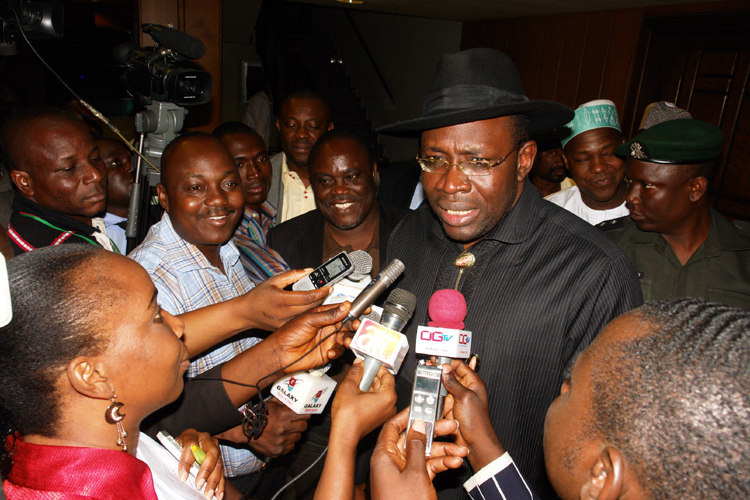 For the first time in about five months, the Bayelsa State Government on Monday declared N3.5 billion as balance of funds available for spending at the end of November, 2016.
In October, like in the three previous months, the state recorded a deficit balance of N160.4 million, mainly due to the shortfall in revenues from the federation account and the reduction in its production quota of crude oil.
The State Deputy Governor,  Rear Admiral Gboribiogha John Jonah (retd), announced the figure during the transparency briefing for the months of October and November, 2016 in Government House,  Yenagoa.
While presenting the income and expenditure  profile for the month of November, the Deputy Governor said that the state received N11.6 billion as gross inflow from the federation account.
He noted that the amount comprises  petroleum profit tax of N4.8 billion, derivation of N3.3 billion and exchange differential of N1.2 billion.
Other sources, he said, were statutory allocation from which it got N1.1 billion, budget support N1.1, refund from Rivers State N57.5 million and value added tax of N618 million.
On FAAC deductions totalling N2.3 billion, the Deputy Governor said bond deduction gulped N1.2 billion, restructured commercial bank loan N741 million, commercial agricultural credit schemes one and two N162.3 million and foreign loans N28.76 million.
According to him, the salary bailout to the state was N16.3 million while Excess Crude Account loan was N126. 67 million, bringing the net inflow to N9.3 billion.
Rear Admiral John Jonah revealed that the state got N608.9 million as internally generate revenue for the month of October, 2016 in addition to refunds from the bond loan of N4.75 billion following its restructuring.
He added that the state also received refunds from local governments totalling N97.67 million, which increased the amount available for spending to N14.7 billion.
On expenditure, Rear Admiral John Jonah announced a total outflow of N11.69 billion which included bank loan repayment of N2.8 billion, recurrent payments of N3.8 billion, capital expenditure amounting to N6.4 billion, Cot provision of N59 million and payment for IGR collection of N48.5 million.
In his remarks, the Commissioner for Information and Orientation, Hon. Jonathan Obuebite noted that the transparency and accountability posture of the Seriake Dickson-led administration has remained a major policy thrust of the government since its inception in 2012.