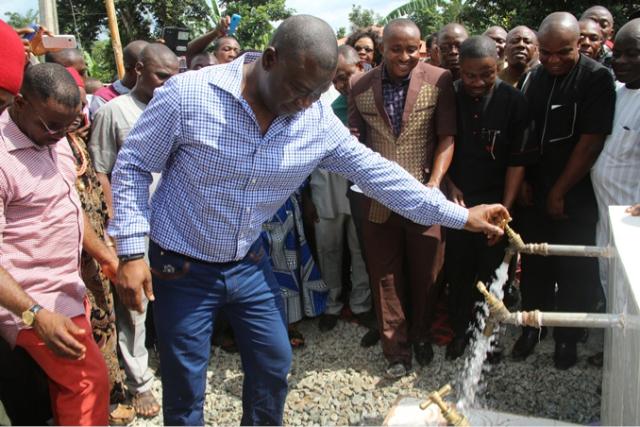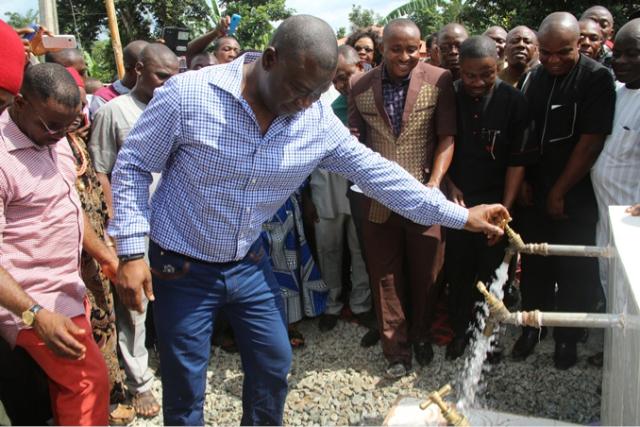 …Calls for sustained representatives' dialogue with constituents
The Deputy President of the Senate, Senator Ike Ekweremadu, has unveiled plans to procure borehole drilling equipment to address the problem of lack of portable water in Enugu West Senatorial District.
Ekweremadu made this known when he received delegations of Oduma Development Union, Abuja, and Oghe Social Development Association, Abuja, who were on a thank-you visit to him at his Abuja residence for the various development projects he attracted or personally executed in their communities.
He noted that procuring and stationing borehole drilling equipment, which would start work in Ezeagu LGA was more cost effective, since government contracts for boreholes could not adequately address the water needs of the communities.
He said: "I know that water is a challenge, not only in Oghe community, but the whole of Ezeagu and we are determined to deal with it in a sustainable way. We believe that it is going to be difficult for government contracts to provide water for all the communities in Ezeagu. So, what we plan to do is to procure drilling equipment that will be coordinated by my constituency office, the local governments areas, and communities to enable us develop sustainable boreholes in as many communities as possible".
The Senator, however, cautioned governments at every level to guide against the unrealistic presumption that they adequately understood the needs of the people they serve, as such could lead to faulty needs articulation.
He stressed: "I think the most important thing in a democracy is to constantly engage the people, especially at the grassroots. Sometimes, governments make the mistake of thinking that they know the needs of the people they are serving. Unfortunately, most times they know little, and misplace the needs and priorities of their people.
"The need for cottage hospital and other projects in your communities came up during my interactions with you; and by your presence here today, I believe that the projects addressed your needs rightly and that you appreciate them".
While extolling the Governor Ifeanyi Ugwuanyi-led administration in Enugu State for providing a conducive environment for cooperation and multi-level government development effort to thrive, Ekweremadu, also rued what he termed "missed opportunities of the recent past".
He further explained: "You would recall that we wanted to build a youth development centre in Ezeagu. We started work and some people went out and destroyed what we were doing. Because of the politics of the time, it was frustrated.
"We came to Ezeagu a few years ago to provide health services to those with various eye problems, including those in need of eye surgery. We brought world class medical professionals as usual, but some people went to the medical outreach centre, beat them up, and chased everybody away. However, I am sure you know that things have changed and the present environment will enable us to do as much as we can for our people".
Earlier, the President of Oghe Social Development Association, Mr. Ken Ezekwu and the Chairman of Oduma Development Union, Dr. Mbah Chukwubike, said the delegations came to express their profound appreciation for the quality representation Ekweremadu had given to Enugu West Senatorial Zone, the South East, and Nigeria  in the past 13 years.
Mr. Ezekwu expressed gratitude to Senator Ekweremadu for heeding the request of Oghe community for a cottage hospital at Amankwo Oghe, and pledged their unalloyed support towards the  achievement of the Deputy Senate President's future political aspirations.
Dr. Mbah, on the other hand, recalled that the Ikeoha Foundation, which Senator Ekweremadu established as Chairman of Aninri Local Government Area in 1997, had changed the lives of many down trodden and assisted indigent students in their academic pursuits.