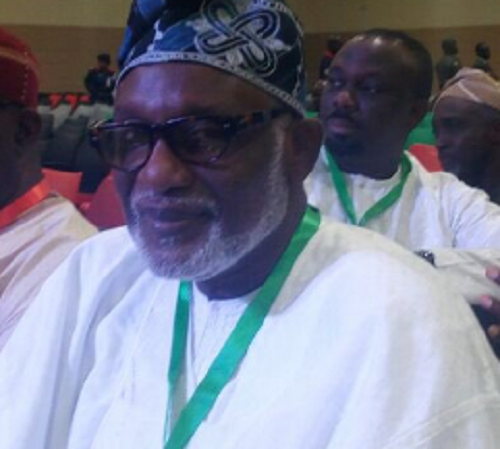 The candidate of the All Progressives Congress (APC) for November 26th governorship election in Ondo State, Mr Rotimi Akeredolu

on Wednesday

rounded off

 

his campaign at Owo Local Government Area of the state, promising to transform the state in all ramifications if elected.
Akeredolu hails from Owo, the headquarters of Owo Local Government Area.
The two terms former President of the Nigeria Bar Association (NBA) reinstated his determination to create massive employments in the state through agriculture, industrialization and entrepreneurship.
The Senior Advocate of Nigeria (SAN) also promised that the state will witness massive infrastructural development and maintenance under his reign. He pledged to facilitate functional education and technological growth, make quality health care and social services available to the people and develop the rural areas with the aim of de-congesting the urban areas.
Speaking at the Palace of Olowo of Owo, Oba Olateru Olagbegi, Akeredolu said he remain the candidate to beat on the election day. He promises to be a good ambassador of the local government area if he triumphs at the poll.
"I have visited all the towns and villages in this state to tell them our programmes. Let me say that we are confident that come

Saturday

, Owo will rejoice. I am just here to give you report; this is our work, let's go to town, let's preach the message, i mean business, i am not contesting because i want to be addressed as His Excellency; i want to truly serve the people of Ondo State", Akeredolu said.
Oba Olagbegi while responding said Owo people have decided to support Akeredolu whom he described as a pride of the ancient town, stating confidently that APC will garner 95% of the votes cast at Owo on the election day.
The campaign train which had earlier visited Isuada, Uso, Emure-Ile, Ipeme and Iyere was greeted by a mammoth crowd at Owo.
On the campaign train with Akeredolu were the Director General of the Campaign Platform, Rt. Hon. Victor Olabimtan, Senator representing Ondo Central in the Senate, Tayo Alasoadura, APC Deputy Chairman in the state, Ade Adetimehin and several others.