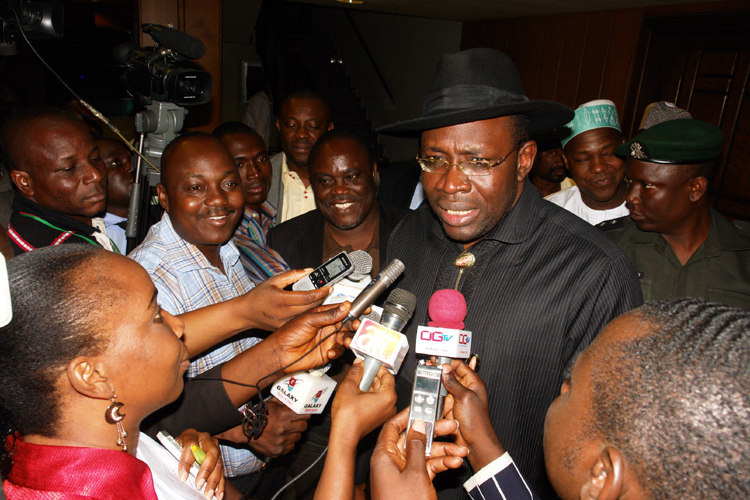 Despite acts of destabilisation orchestrated by members of the opposition party, Bayelsa State Governor, Henry Seriake Dickson, said he would remain focused on addressing the basic challenges, particularly in the areas of education, security and critical infrastructure.
He gave the assurance on the sidelines of the Independence celebrations in Yenagoa, where he also decried the activities of some political actors in the state to discredit his administration for selfish reasons.
Dickson cited instances, where such politicians "collude with detractors to de-market Bayelsa State and the Niger Delta" by sponsoring criminal activities to undermine the prevailing peace and security which, he said, his administration worked hard to achieve in the past four years.
While expressing his determination to safeguard lives and property, against all odds by sustaining the existing collaboration amongst the state government, security agencies and the people, the Governor stressed that the security outfit of the State, 'Operation Doo Akpo', would be strengthened to function optimally.
Dickson highlighted some of his achievements in office, adding the international cargo airport, which is a brainchild of the Restoration Government is 80 per cent completion, while the new Governor's Office is ready for commissioning.
He also stressed that Julius Berger Plc, the contractor handling the Isaac Boro Expressway, would be re-mobilised to site for its completion to ease transportation within the state capital.
The governor also listed the reforms in the public sector and the paradigm shift in the governance culture, as part of his novel contributions to the growth of the state and called on the people to key into the vision of the government.
While thanking Bayelsans for their support, Dickson also gave kudos to the founding fathers and leaders of the State for their various contributions and sacrifices towards making the creation of Bayelsa a reality.
He acknowledged the contributions of his predecessors, stressing that although the Bayelsa State had yet to attain the desired height in terms of development, it has witnessed significant progress within its 20 years of existence, considering the level of under-development it suffered before its creation in 1996.