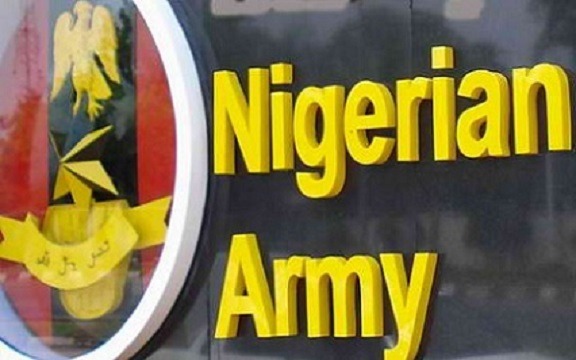 The Human Right Writers Association of Nigeria (HURIWA) and the Association of African Writers on Human and Peoples Right (AFRIRIGHTS) have alleged a smear campaign against the Chief of Army Staff Lieutenant General Tukur Buratai, by some people described as mole within the Army system.
The human right fighters also suspected a plot by some people who they said benefited from insurgency campaign to distract the Army Chief in the fight against Boko Haram in the country.
Addressing a press conference on Sunday in Abuja, both Comrade Emmanuel Onwubiko of HURIWA and Esther Orok from AFRIRIGHTS, wondered what is the problem with this part of the world where tendency to destroy people for inexplicable reasons is a order of the day.
The groups were reacting to an online reports alleging violations of the assets declaration made by the Army Chief with specific reference to an offshore housing assets in Dubai the United Arab Emirates.
 While describing the reports as a tissue of lie, HURIWA and AFRIRIGHTS said they have conducted an investigation on the matter "and found out that they are untrue.
"For the avoidance of doubt the said investment was legitimately cumulated over long period of time and was declared to the Code of Conduct Bureau on his assumption of duty as Chief of Army Staff in July 2015. The records are there at the Bureau for all those interested to check.
"General Buratai has nothing to hide and leads by personal example which he encourages his subordinates to emulate. He was the first military service chief to declare his assets and asked all officers to do so. This is unprecedented and has no doubt given credence to the government's anti-corruption crusade. Possibly, this and several other accomplishments are some of the reasons why these faceless detractors want to drag his name into the mud.
"Unknown to them, any campaign of calumny against this war hero especially in the battles against Boko Haram terrorists, is not just a personal attack on him as person, or the Nigerian Army, it is an insult and assault on our collective being as Nigerian people.
"This is because it is an attempt to distract him and the Army he leads from clearing the remnants of the Boko Haram terrorists and other good works of repositioning the Army to be truly the pride of the nation. The predators no doubt, were equally determined through this unpatriotic act to rubbish the government but they will not succeed as the truth will always vindicate him."
It continued: "We know many honest traders in Abuja who legitimately own properties in Dubai and other foreign jurisdictions. Whilst we don't hold brief for COAS we make haste to ask Nigerians to be patient and await the final reports of the Presidential panel on the so called arms procurement scandal since most of these 'revelations' are being challenged in  competent courts of law for determination."