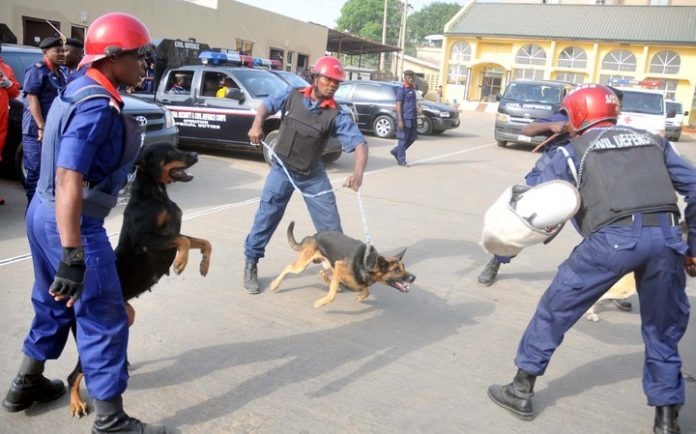 The Nigeria Security and Civil Defence Corps (NSCDC) has deployed about 2000 personnel to ensure security of lives and properties of residents during the Federal Capital Territory (FCT) area council's election scheduled for Saturday, April 9, 2016.
Commandant General of the Corps, Abdullahi Gana Muhammadu, who made the deployment while addressing Officers and Men of the Corps Wednesday in Abuja, told the officers on the need to deliver on the constitutional mandate before, during and after the  elections.
The CG said that Mobile Surveillances Vans, Sniffer dogs, Special Force, Anti-Vandal Squad have all been positioned to ensure smooth and peaceful election and to safe guard the Critical Infrastructure in the Nation's capital.
Gana admonished the security operatives to discharge their constitutional roles as expected, saying, they should shun partisanship of any sort to advance the cause of any politician or any political party.
He also said that the election that the FCT election should serve as a paradigm to any other elections to be conducted elsewhere in the country.
Gana called on INEC to rise up to the occasion once more and be the unblemished umpire they are seen to be by all, "as the conduct of  free and fair elections both in the FCT and other parts of Nigeria is their sole task to perform while the assistance from all security agencies is participatory , as they are to ensure Law and Order which are all offspring of peace."
Meanwhile, the intelligence personnel have also been deployed to comb the FCT before Saturday's election.