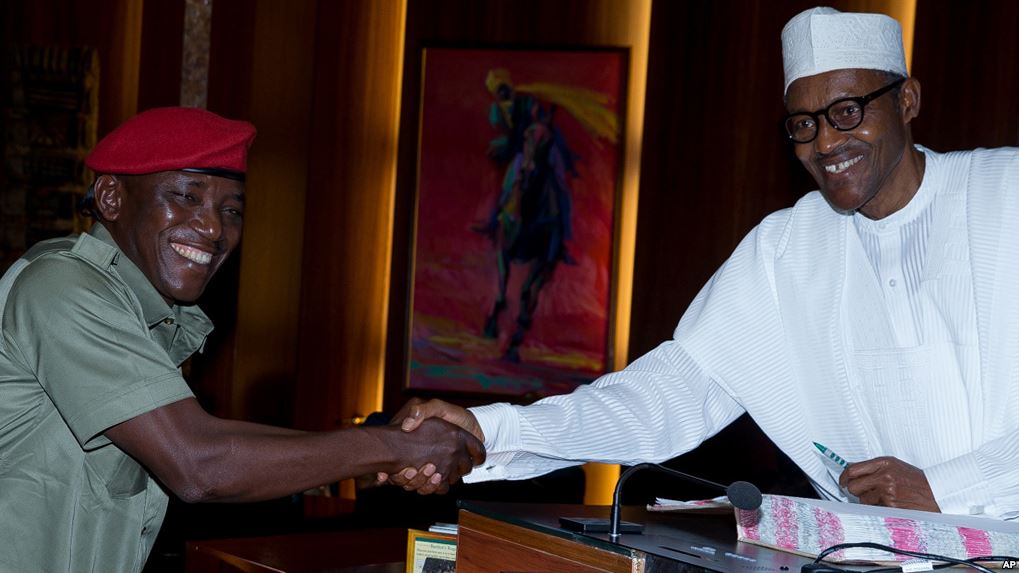 There comes a time when it is apparent that an individual paper qualification is fighting that individual professional actions, but perhaps a continuing education supposed to fill in such lapse and this writer asks, is this normal reaction to compensate for such lapse in Nigeria? Not really, the individual continues to live in the fantasy world, that knowledge of 1964 or military era remains valid. Case in point is the action of the current Sports Minister, Mr. Solomon Dalung who is a legal practitioner. Mr. Dalung was asked about an illegal contract by his predecessor and why, he renewed such illegal contract and he said, "I acted in the national interest."
Nigeria is a sovereign state and violating the laws of the federation of Nigeria (LFN) that Mr. Dalung sworn to protect can never be in any nation interest, including Nigeria, this is the apex of impunity and it is an impeachable offense, if committed even by the President of Nigeria, therefore, Mr. Solomon Setclap Dalung must be sacked immediately. The details will follow later as this article now turns to sports.
Football
The imbroglio that is eating football federation leadership is ongoing while the nation senior team lost to the Pharaos of Egypt by a lone goal in faraway Alexandria, Egypt. The fallout from such defeat as usual will be a change of coach, once again. Lots of individuals, including fans prefer a change of the administrators, whereas the sports Minister focused on the new coach criteria of selection. Amaju Pinnick, the occupier of the court- declared illegal federation leadership office, said publicly, that he intends to hire a foreign coach while Mr. Dalung said, he must hire local coach.
Now, assuming all things equal, is it not hypocritical for Mr. Dalung to advocate for local coaches for football where such sport have most of the players playing abroad under certain system of football that is totally different from football system and structure locally, whereas, he hired foreign unqualified coaches for athletics by breaching several Nigeria's laws in the process? Either way, football in Nigeria must be reformed, immediately and Dalung must go.
Athletics
World Indoor Championships in Portland, Oregon, USA exposed the mediocrity of the unqualified foreign coaches illegally hired by Mr. Dalung with Nigeria's disgraceful outing ever at a World stage. Eric Campbell and Angie Taylor hired without qualifications and contrary to over 10 Nigeria Laws under penalty of lengthy prison terms destroyed the country chances at the World Indoor and currently turned a 44seconds runner (Orukpe Erayokan) into 48seconds runner in three months. In football, these people would have been sacked, even by the Sports Minister.
Yes, Mr. Dalung shows lack of any administrative skill to evaluate anyone, but of course, he has the mouth to tell the illegal football federation not to sack Mr. Oliseh or hire a foreign coach. Athletics Federation of Nigeria (AFN) is simply dead and Nigeria's hope at the Rio Olympics is now just Blessing Okagbare and perhaps the female relay teams unless, the likes of Innocent Egbunike, Tony Osheku, Pat Itanyi and others are brought to intervene immediately. And that can only happen, with the exit of Mr. Solomon Setclap Dalung as the sports Minister.
Offences Against Mr. Solomon Setclap Dalung
Public Procurement Act 2007
PPA sections 16(1), 16(6)a(iii), 16(6)f and 23(1) – similar charges against Mr. Sambo Dasuki (rtd. Colonel) by open competitive bidding; Here is the excerpt
16 ( ) in a manner which is transparent, timely, equitable for ensuring
accountability and conformity with this Act and regulations deriving therefrom ;
with the aim of achieving value for money and fitness for purpose ;
( ) in a manner which promotes competition, economy and efficiency; and
( ) in accordance with the procedures and time-line laid down in this Act and as
may be specified by the Bureau from time to time.
23. Where a procuring entity has made a decision with respect to the of
bidders. minimum qualifications of suppliers, contractors or service providers
by requesting! interested persons to submit applications, to pre-qualify, it shall
set out precise criteria upon which it seeks to give consideration to the
applications in reaching decision as to which supplier, contractor or service
provider qualifies, apply only the criteria set out in the prequalification
documents and no more. Tenders board.
No such activity occurred either by Mr. Dalung's Ministry or any Bureau
PPA Sections 19, 24-7 and 44(a) Mr. Dalung did not publish advertisement for the procurement of such services.
Public Service Rules of the Federation
Public Service Rules Section 1 -020102 (appointment of grade level 12 and above). For your reference, the excerpt is below;

"The Federal Civil Service Commission shall make appointment to posts graded GL.12 – 17. Such appointment shall be made as the need arises into the available vacancies after advertisement."

 

The Federal Civil Service or Mr. Dalung did not advertise such vacancy. Salaries paid to these individuals are above level 17. In fact, total salary of $15,000 to Ms Taylor and $12,000 to Eric Campbell plus various perks including housing cars, drivers, security, air tickets, etc.
Public Service Rules Section 2 – 020205(b), (d) and (e)- (eligibility). For your reference, the excerpt is below;
To be eligible for appointment into the Federal Public Service, every applicant must:
(a) not be less than 18 years and not more than 50 years of age;
(b) possess such minimum qualification as may be specified from time to time including computer literacy.;
(d) possess a testimonial of good conduct from last employer or if not
previously employed, from the last school or college attended; and
(e) possess requisite qualifications as provided for in the scheme of service.
Ms Angie Taylor is over 50 years old, did not possess requisite qualifications to be a director in Public Service in Nigeria. Mr. Eric Campbell does not possess a University degree or any requisite qualification to be a director or even called expatriate in Nigeria and did not possess a testimonial from his last employer. Mr. Campbell was fired by Saudi Arabia federation
Public Service Rules Section 4-020402(b) (foreigners). For your reference, the excerpt is below;

Contract appointments may be offered to expatriates only when suitable Nigerians are not available.
There were several Nigerians with better qualifications and Master degrees with Olympics medals as Coaches and individual medals as athletes ready to service on moment notice. Attached herewith are there CVs. Mr. Dalung knew of these individuals and their credentials.
Immigration Act
Immigration Act (Chapter 171) LFN Section 34(1) and punishable under section 34(4) and liable to prison sentence. For your reference, the excerpt is below;

"Where any person in Nigeria is desirous of employing a person who is a national of any other country he shall, unless exempted under this section, make application to the Director of Immigration in such manner as may be prescribed and shall give such information as to the provision to be made for repatriation of that national and his dependants as the Director of Immigrations may reasonably require; and no such person shall be employed without the permission of the Director of Immigration given on such terms as he thinks fit; the provisions of this section shall extend and apply to persons in employment immediately before, as well as to those employed or to be employed at any time after, the commencement of this Act."

 
                There is no proof Mr. Dalung followed this process.
The utility value of Mr. Solomon Setclap Dalung is nil. There is no sports policy, there is sports direction, but there lots of chaos created by him and he must be sacked now or apologise and tear the illegal contract he signed with the duo of Angie Taylor and Eric Campbell.
I rest
Dr. Rashid A. Balogun, CPA, LLB(Hons.), LLM(London), PhD.
43 total views, 2 views today