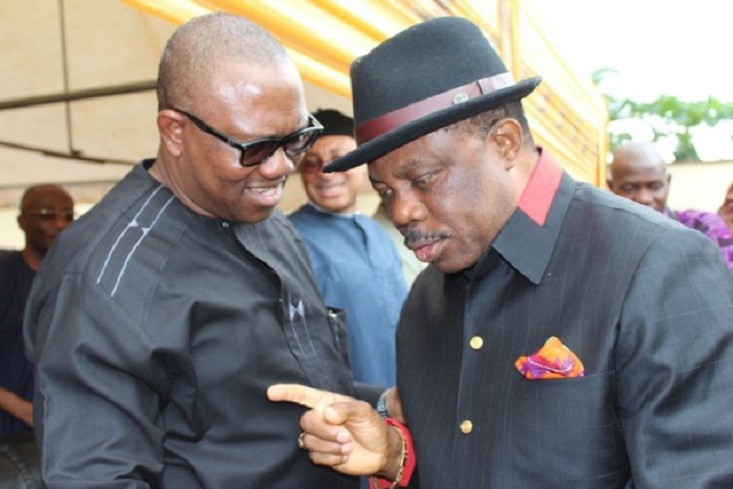 By Joe Chukindi, Awka
The Media Aide to the former Governor of Anambra State, Mr. Peter Obi has cautioned the former Chairman of APGA, Mr. Victor Umeh, over what he called "an unwarranted attack on his person." In a release made available to the press, Obienyem said he was shocked to receive many calls drawing  his attention to how Chief Victor Umeh, during a radio programme on Rhythm fm,  95.7 accused him of hiding under a name to make contribution during a phone-in-programme.
Isaac Boro Fought With Nigeria Against Biafra. Was He a Legend or A Betrayal To The People Of Niger Delta
Betrayal (69%, 414 Votes)
Legend (31%, 183 Votes)
Total Voters: 597
Loading ...
Part of Obienyem's release reads: " I understand that one Gerald  called during a programme featuring Chief Victor Umeh, and flowing from the subject under discussion,  asked Victor Umeh if he was aware that Obi left over 100  billions Naira for Anambra State  and whether he was also aware that part of Obi's dollar savings had been sold, and linked Umeh's singing of praises of Obiano to 20million he receives monthly. Rather than react to the submission, Umeh said I was the one that called." Obienyem described Umeh's action as the height of blackmail and demands apology and retraction from him, regretting that Umeh has vowed not to let people rest in this state, even when one had decided to remain silent. "When has Gerlad become Valentine? As all telephone numbers are registered today, I hope Silver Bird has the no that was used to make that call for proper investigations when the time comes", Obienyem said.
On the subject of Umeh's discussion, Obienyem said that  the irony of it is that Umeh renewed his offensive against Mr. Peter Obi simply because he was jittery of Obi's possible Senatorial contest against his maximum efforts to  contest alone. He loves stoking problem between Obi and Obiano beyond compare because he reaps from it." Reviewing what he called Umeh's lies against Obi, Obienyem assured Nigerians whom he said, held Obi to highest esteem, that Obi would not condescend to banter words with Umeh, whom he described as  perpetually and vainly craving for the limelight."
Obienyem, who invited people to review Umeh's life submitted: "a man who  exemplifies the height of greed, insensitive to integrity, Umeh is one of those who believes that the state should even be destroyed once they are gaining from her. A man that is attacking the very person that made him,  the man who bought his first vehicle for him, lifted him from living in a 2-bedroom  apartment to ownership of palatial houses, as well as sent  him overseas for the first time, will surely do worse to those  that erroneously think of him  today as their backbone", Obienyem concluded.