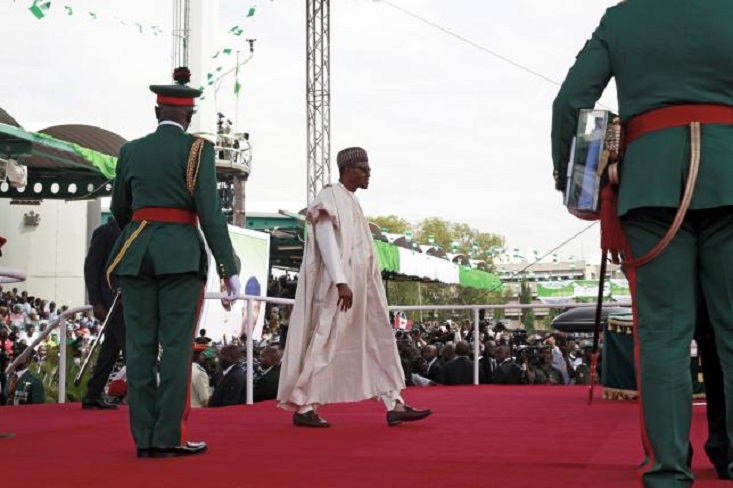 Advertisement
During the first media chat organised by the current APC government for President Mohammed Buhari, many Nigerians followed it with great expectations. The reason for these unusual expectations by Nigerians from their President emanated from the promise of Change by APC led government during their election campaign. During the electoral campaign, APC employed a very stronger political strategy, campaign promises that most gullible Nigerians could not resist.  Notable among these promises was the introduction of partial social welfare system in Nigeria that will pay a paltry sum of five thousand naira to all unemployed graduates in the country. Secondly, was the promise to cleanse Nigeria from the endemic corrupt system which has eaten deep into the fabrics of our socio-political life.  In addition, the APC manifesto also promised to equal our naira to USA dollar in the foreign exchange market. On the local front, the party also promised a drastic reduction of petrol pump price to a barest minimum. Immediately after clinching power, the first salvo from Buhari APC led government, was the tribally saturated selection of his core officials to the detriment of some of Buhari`s perceived  tribal enemies who voted only 5% to his political victory. Even his war against corruption has also been generally construed as targeting the same perceived political enemies.
Isaac Boro Fought With Nigeria Against Biafra. Was He a Legend or A Betrayal To The People Of Niger Delta
Betrayal (69%, 414 Votes)
Legend (31%, 183 Votes)
Total Voters: 597
Loading ...
The subterfuge of the globally celebrated Chibok girls that was used as a formidable election weapon against Goodluck Jonathan administration  has never been unmasked, notwithstanding  Buhari`s  campaign promises.  Another campaign promise to get rid of the dreaded boko haram once he becomes the president of Nigeria has gradually degenerated into a political 419 scam. Since the new regime wrested power from GEJ, the boko harm has unleashed more deadly attack on defenceless Nigerians including the abduction and slaughtering of military personnel.  To most of these gullible Nigerians haplessly and holistically monitoring these unresolved political intrigues at the moment, they feel deceived by voting APC into power and stealthily lick the wounds of their mistake. The   result of the clueless and lopsided direction of the current regime has again ignited the clamour for the restoration of sovereign state of Biafra. Before the emergence of Nnamdi Kanu led Indigenous People of Biafra (IPOB) like a colossus, there has been the existence of various groups seeking the restoration of Biafra such as MASSOB and Biafran Zionist led by Barristers Raph Uwazurike and Benjamin Onwuka respectively. Among the groups seeking the restoration of Biafra, none has generated waves of trepidation currently raging among the political class in Nigeria like the restive IPOB.
During the media chat, President Buhari appeared relatively unprepared for the most questions albeit his occasional dry smiles devoid of warmth or emotions. Although the President tried to conceal his crass ignorance of the tirades of questions thrown to him, he feigned to control the situation by evading most of the vital questions which he stoically trade blames on the erstwhile administration.  As Buhari battled barrage of questions from the three panels of Journalists, Nigerians were anxiously following every bit of the scenario with high analytical precision. On the fast dwindling economy, President Buhari inadvertently created an impression of a confused regime that practically lacked economic direction, capable of restoring the once fleeting economic glory as the biggest and fastest growing economy in African continent.  During the media chat, President wittingly failed to mention any form of credible diversification in the economy to create an alternative solution if the global oil prices continue to go down the slide.  Another economic clarification presented to the public during the media chat, was the reactivation of Goodluck Jonathan`s Treasury Single Account (TSA) policy, which Buhari promised to use effectively to tackle misappropriation of public fund which will create proper accounting system for public funds.  During his first stint in government as a military head of state, President Buhari government sent Afro beat Maestro late Fela Kuti to jail in 1984 for violating foreign currency decree promulgated by the ruling military junta.  Since assumption of office, Buhari has once again resurrected the same decree in a civilian garb.  Although there is no existing legislation in that effect yet, possession of foreign currency has become one of the heinous crime in the eye of any security agent.  Nigerians are already nursing mixed feelings about the government policy that mostly target  legitimate Igbo traders even though deplorable movement of Ghana-must-go stuffed foreign currency has attracted several robberies in our airports. Significant Economic litmus surrounding the foreign currency policy of the government, may likely retard our foreign investment opportunities or lead to divesture of multinational companies doing business in Nigeria that may be tempted to relocate somewhere else if remittance of their profits to their country of origin becomes difficult. Already, some airlines are secretly threatening to reduce or nullify the number of their flights to Nigeria. Even in the face of these economic controversies, President Buhari appeared more unruffled with his usual military dispositions by engaging more on media propaganda instead of employing the services of economic experts to resolve the economic imbroglio.
The issue of corruption which has become synonymous with virtually every fabric in Nigerian society has derogatorily tainted Nigerian image worldwide. During the election campaign, it formed the cardinal point that won APC more votes against the incumbent government of erstwhile President Goodluck Jonathan based on the fact that virtually all Nigerians wants to see a corrupt free new Nigeria. Although Buhari government maintained their determination to tackle corruption in Nigeria, many observers has become sceptical about it as a result of the lopsidedness in using the war to target only the perceived enemies of the government. In his media chat, President Buhari, vehemently committed a legal blunder when he openly convicted the erstwhile national security adviser to the ex-president Jonathan involved in corruption case even before the final decision of a competent law court. Although Buhari in his speech furiously passed a judgement against Dasuki, he failed to tell Nigerians his own involvement regarding the $850 million and two jeeps he was alleged to have collected as his proceeds from the Dasukigate scandal. Again, President Buhari completely shielded some of his close associates in government whose name were mentioned as partakers in the loot.  The alleged Dasukigate involving the procurement of arms and ammunition for the fight against the dreaded Islamic sect Boko haram, has resulted to the conviction of some of the soldiers who refused to fight the Islamists  because they lack military equipments.
The existence of cabal or clique as used by late major Gideon Okar and Dora Akunyili respectively, has ultimately proved to Nigerians how ignobly few in the ruling class transcend tribal or political boundaries, has pauperised majority of Nigerian population. Obviously, Nigerians solidly supports war on corruption but it must be devoid of any preferential treatment that target only critics or perceived enemies of the government. President Buhari`s  stance to gag  Nigerians using social media, once more another era reminiscence to the dreaded decree 4 used by Buhari during his first military incursion as the head of military junta that ousted democratically elected regime of Shehu Shagari  in a military coup d'état.
During his media chat, Buhari unguided utterances and dictatorial  body language  regarding  the incarceration of Mazi Nnamdi Kanu the  leader of Indigenous People of Biafra, proved how arrogant and lack of respect to the judicial system in Nigeria. Defiantly, Buhari berated the entire Ndigbo as wailing ingrates that have the effrontery to raise an issue such as marginalization. Notwithstanding the significant economic contribution by Nigerians in Diaspora, president Buhari labelled all Nigerians in Diaspora as petty criminals. To Buhari, possession of dual citizenship amounts to treasonable felony. Ironically, he must have said it because 99% of the Nigerians in Diaspora a mainly of South Nigerian extraction.
To those who can still recollect, the dreaded Itakun detention centre became famous during the first stint of Buhari as a military head of state in 1983. Notwithstanding the superficial democracy in Nigeria, Nigerians are beginning to witness once again a dictator who defiantly refuses to abide by a ruling of a court of competent jurisdiction in a tribally motivated trump up charges against a fellow national.  Since the end of Biafran war, successive governments in Nigeria have used different administrative manipulation to either deny Biafran region the establishment of any federal infrastructure or strangulate even an existing one. The denial of the region any seaport, airport or functional road network, has become a norm to pauperize and enslave the region.  Even in the political positioning, many in the ruling class still have this irrational believe that Ndigbo should not be allowed in any strategic position to prevent them not using such position to further their likely desire to secede.  It is very obvious that Nigeria is heading to a very imminent hyper inflation in history.  President Buhari and his incompetent cohorts in this APC led government have failed Nigerians. It time President Mohammed Buhari should accept a defeat honourably like Goodluck Jonathan and resign before Nigeria perish or force him out. To save Nigerians from this state of looming despair and bleak future, Buhari should hurriedly form a government of national unity with a mandate to conduct a fresh election in January 2017.
Toms Emeka Ugwu  Dip, BA, LLB, LLM, FCMI is a legal practitioner and a political commentator based in Rep. of Ireland.
–