IMO STATE GOVERNMENT HOUSE, OWERRI
PRESS RELEASE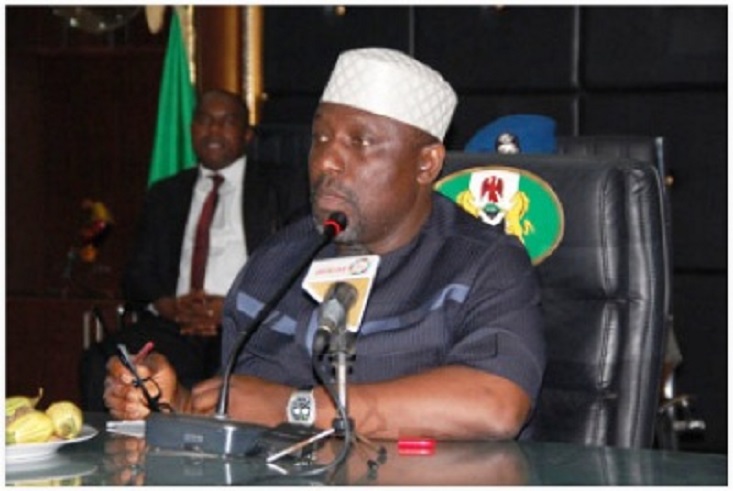 …As Consulate General Visits
Governor Rochas Okorocha has demanded for a comprehensive list of Imo sons and daughters serving various jail terms in the US prisons, with the offences for which they were accused of, tried and convicted also stated.
Governor Okorocha made the demand when the United States of America consulate General in Lagos, Mr. John Bray paid courtesy call on him at the Government House Owerri, Wednesday, February 24, 2016, stating that, the state has her sons and daughters in the U.S prisons, with some of them guilty as charged, while some of them were victims of social circumstances.
The governor stated, "we have most of our sons and daughters in the U.S. prisons.  Most of them languishing in jails.  Some of them also guilty as charged, and some of them victims of social circumstances.  I want to appeal that the names of  such Imo sons and daughters be made available to me with the offences they have committed so that we take a look at them.  If they are people we can bring back on bail we will do that and bring them back to the state and provide for them as hope has come to the state."
Governor Okorocha continued, "we are concerned as a people and as a government. We want the dossier of such our sons and daughters.  We want to see how the state government can facilitate their release and integrate them back into Imo community. "
According to Governor Okorocha, "the great partnership between Nigeria and the U.S. has been of immense help to the state and most of the Imo sons and daughters have got themselves equipped technologically as a result of being trained in the USA.  We need assistance in the area of communication especially upgrading the Internet facility in the state.  This will help in connecting the state to the rest of the world."
In his short speech, the US consulate General in Lagos, Mr. Bray said he had come to the state to look at the political, social, economic and cultural issues as they affect the south-East zone.
Sam Onwuemeodo
Chief Press Secretary to the Governor