Advertisement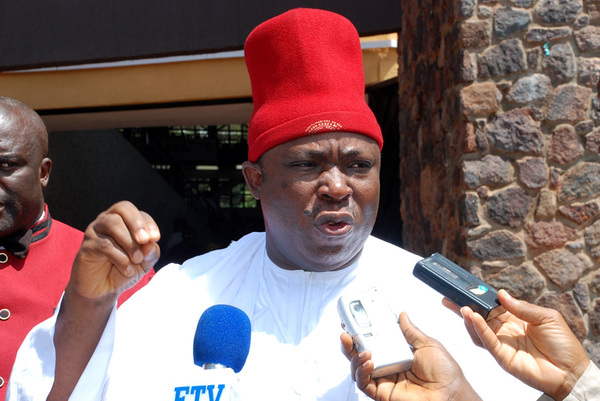 By Joe Chukindi, Awka
Sources have said that the Director General of Chief Victor Umeh campaign organization, Barr Obele Chuka has allegedly resigned.
Obele Chuka Obele, a human rights lawyer was appointed the Director General, (DG) of Umeh Campaign Organization in the March, 2015 National Assembly election, a position he held until recently when he resigned his appointment.
Chief Umeh it was further gathered had reported his former DG to the Principal Secretary to the Governor of Anambra state, Mr Wiillie Nwokoye, who is also from Amawbia, where he accused him of working against him in the March 28 election which Umeh.
Advertisement
Another source said tha Obele Chuka while serving as his Director General allegedly embezzled huge sums of money meant for campaigns and other sundry acts that were inconsistent with his mandate.
However, Obele while reacting to the allegations in a telephone interview described them as lies, adding that it was even Umeh that was owing him to the tune of N20m and over N15m personal cash he sunk into Umeh's campaigns.
He said that his former principal accused him of embezzling his campaign funds and that he even went as far as presenting his bank details to Umeh to confirm that he never diverted any money meant for campaign to his personal pocket.
Obele when asked for further clarifications on the sudden impasse between him and his former Principal that led to his resignation said "I do not wish to talk on my resignation as his DG or anything else about him. I do not know how you came about most of the information that back-grounded your questions"
"My relationship with Ohamadike (Umeh) is strictly a private matter. I will appreciate if you let it remain at that level and let us talk on bigger issues that affect our State and country"
Meanwhile, Chief Victor Umeh has accepted the resignation of his erstwhile Campaign Director General, DG and has gone ahead to appoint Odegba Oraukwu to replace, Mr. Obele Chuka Obele.