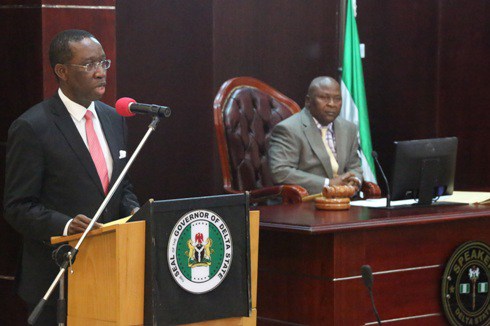 By Amos Igbebe
National Coordinator of Niger Delta Peace Coalition (NDPC), Zik Gbemre, has called on President Muhammadu Buhari to beam his anti-corruption search light on judges trying Delta governorship cases, insisting that the judges in both tribunal and Appeal Courts had failed in their duty to the people of Delta State.
In a petition addressed to office of the President, a copy of which was obtained by 247ureports.com, the Niger Delta activist alleged that the judges who had tried the case in both tribunal and appeal court were compromised, hence they delivered judgment out of alleged inducement from the People's Democratic Party (PDP) and its candidate in the Delta guber battle.
Gbemre, who accused the Nigerian judiciary of making a career through perversion of justice, said judges enriched themselves though "all manner of legal technicalities as excuses as evidenced in election tribunal cases, corruption and criminal cases with specific reference to Delta State".
He argued that the greatest threat to Nigeria's democracy are judges of Nigeria's judiciary who pervert justice because of their insatiable greed while calling on Nigerians to vent their anger on them, saying they are aiding and abetting criminals to rule Nigerians.
"It is against this pathetic situation that we find ourselves in Delta State that we consider it necessary to passionately appeal to the Presidency to beam its anti-corruption search lights on the Judges, particularly Federal and State High Court Judges, Appeal Court Judges and the Supreme Court Judges, assigned to hear election, corruption and criminal cases concerning Delta State, especially as it regards the ongoing Delta State gubernatorial election matter.
"This has become necessary because Deltans have been deprived of tasting true justice in all election matters ever heard on the gubernatorial Tribunal Cases in Delta State. Aside depriving the people of their votes being made to count in past gubernatorial elections in the state, the Nigerian Judiciary through its Judges has also denied the people from getting fair hearing on governorship election matters because they often compromise their integrity.
"In fact, Delta State public funds have become 'bribing tools' used by successive Delta State Governments to get favourable judgments in courts. To put it bluntly, there is need for the Presidency to do something about Delta State, as being the most corrupt State Government in Nigeria. They use the public money to bribe judges right from 1999 till date, especially all cases on gubernatorial election matters and corruption cases. Judges assigned to hear gubernatorial election cases in Delta State end up being billionaires overnight", he alleged.
He described judgments delivered on Delta guber election petitions as distorted, saying that the hope of Deltans crying for liberation from the shackles of PDP's 16 years rule has been dashed by the Nigerian judiciary.
He called on the Nigerian Judicial Commission (NJC) to wake up to its billings, saying the NJC must address the perceived lapses in the judiciary so that the issue of corruption and delivering wrong judgment would be checked in Nigeria and restore the hope of Nigerians in the Nigerian judicial system.