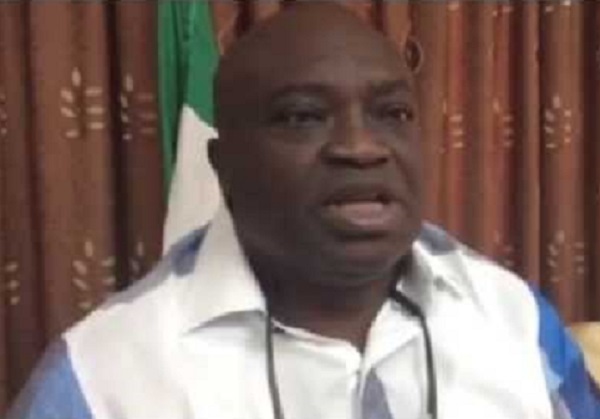 Workers in Abia state may experience bleak festivities as Gov. Okezie Ikpeazu failed to pay salaries contrary to repeated announcements on the state Radio that the governor has paid salaries to all categories of workers
The workers who could not celebrate Christmas because of nonpayment of salaries, are further worried that the governor failed to provide the usual December rice which have always taken for granted and donated to workers annually.
According to a source at the Abia Government House, Umuahia who spoke to our correspondent on 23rd December," As I'm talking now, there is not even a grain of rice anywhere near Government House. I don't think the governor had such plans.  Workers had given up hope on getting their usual December rice. They are praying that God touches the governor to release salaries. This is unheard of, that workers did not get rice for Christmas.
"During the days of ex-Gov. Theodore Orji, it was a rule that on or before 24th December, every worker in the state would have gotten rice, no matter how little. I can't understand why Gov. Okezie Ikpeazu decided to force a bleak Christmas and New Year celebrations on workers. Even the salary has only been paid on the state BCA Radio. Many state governors have paid December salaries with some adding a bonus of 13th months to encourage workers, but the case of Abia will always be different."
247ureports.com gathered that workers in the state are being owed salaries ranging from one to four months, while repeated announcements are being aired on the state radio, BCA and Magic Fm, claiming that no worker is being owed salary.
In similar development, members of the PDP in the state have lamented lack of patronage by Ikpeazu. Some of the chieftains who spoke to 247ureports.com accused the governor of only dispensing favours to his Obingwa kinsmen.
"PDP members appear to have made the worst choice in Okezie Ikpeazu.  Can you tell me that if people like Uche Ogah, Acho Nwakanma, Emeka Wogu, Nkechi Nwaogu, had emerged governor that they would treat us the way Ikpeazu is doing? They cannot do that because they are thoroughbred party people who know what it means to get support from members.
"Many of us are regretting our support for Okezie Ikpeazu. There is no form of support to party members particularly those of us from Abia North. Now, everything goes to his Ukwa/Ngwa people, especially Obingwa. It was not this bad during the time of Gov. T.A. Orji. As at now, no rice has been given to party members at least to appreciate their support. Okezie Ikpeazu keeps enjoying alone, acquiring properties everywhere. They think we are not aware f these things. Very soon, the chicken will come home to roost. Ikpeazu should know that 2019 is at hand."