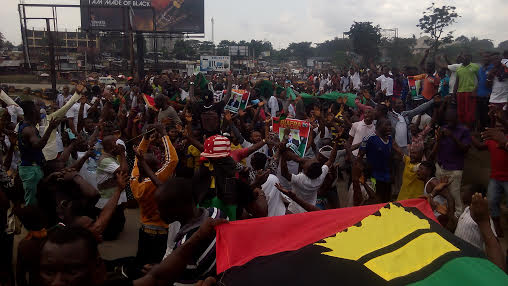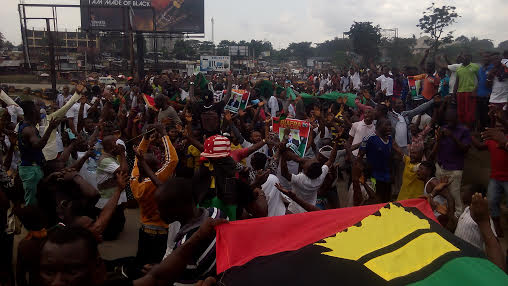 The city of Aba, Abia state on Saturday, literally stood still for members of Indigenous People of Biafra (IPOB) who marched around major streets of the commercial city protesting the continued detention of its leader and Director, Radio Biafra, Nnamdi Kanu.
The situation caused gridlock along the Faulks, Ikot Ekpene and Aba-Owerri roads , including the Ariaria area as motorists found it difficult to wade through the crowd numbering over 5,000 even as the market and business centres remained open.
Our correspondent who monitored the protest march learnt that members of the group had as early as 6.30am gathered at a spot close to the Ariaria market but were dispersed by a combined team of Police.
The group called on the international community to urge the federal government to release Kanu and warned that they would continue with the protest until an independent state of Biafra is created for the people of the former Eastern Nigeria province.
While the Police assisted by other security agents made efforts to ensure that the protest didn't hold, IPOB members later converged at a secret  location from where they marched from the Ariaria area through Faulks, Aba-Owerri and Ikot Ekpene roads.
The group's attempt to stop for possible news coverage at the gate of the NTA Channel six, Aba, along Ikot Ekpene road, was rebuffed by the police who had already stationed their men at the area.
Majority of the protesters who were clad in Biafra insignia told 247ureports.com that they decided to embark on the protest as a mark of respect for Kanu who they said has been unjustly incarcerated by the federal government and refused bail.
As at the time of filing this report, efforts to get the reaction of the Police Public Relations Officer, PPRO, Abia State Command, DSP Ezekiel Onyeke, proved abortive as his mobile number was unavailable. However, a police officer told our correspondent that the Police ensured that hoodlums did not take advantage of the protest to harass innocent residents or loot their property.