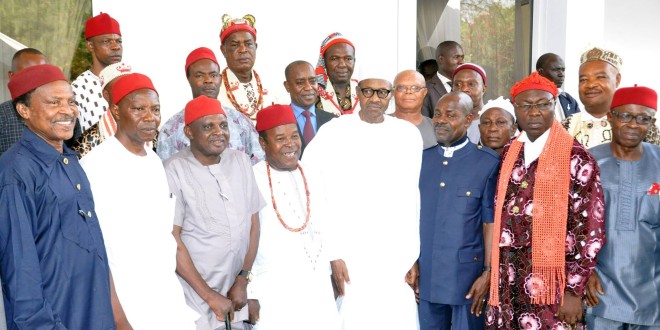 Ohanaeze Ndigbo yesterday frowned at the lopsided appointments of President Muhammadu Buhari led administration saying that if such is not corrected it could lead to agitation which may not be for the overall interest of the nation.
The organization also warned police authorities to release all members of the Movement for the Actualization of the Sovereign State of Biafra (MASSOB) held in various police cells across the country particularly those detained in the South Eastern states.
Speaking during the occasion marking the Igbo Day celebration in remembrance of past and present heroes, in Owerri, the Imo State capital, President of Ohanaeze Ndigbo in Imo, Ambassador Akpelu Azunna noted that in as much as the organization supports President Buhari's government, "we frown at his appointments because they are lopsided.
He said that such appointments should be balanced because Nigeria is standing on tripod, adding that any appointment that excludes any leg of the tripod is not good for the nation. "We expect him (Buhari) that any further appointment in future he should look more on the side of Ndigbo because Ndigbo gave him more than 25 per cent of votes."
Azunna contended that without the Igbo nobody can win election in Nigeria, adding that the zone should be considered for juicy positions to compensate for the sacrifices they had made in that election that brought Buhari to power.
According to him now that the nation is celebrating its 55th birthday, Ohanaeze as non-partisan and non-sectarian, supports one Nigeria but it should be one Nigeria that gives equal rights to all and sundry.
On MASSOB members detained, he urged the police authorities to set free those arrested for speaking their minds or asking for their rights without any condition attached for such release.
He however, advised those agitating for their rights to do so within the orbit of the constitution. "Anybody that wants to agitate should do so within the orbit of the law. Ohanaeze Ndigbo is not against agitation but it should be within the law and those arrested for agitating for what they feel is due for them should be released immediately as Nigeria has major problem of Boko Haram to contain."
Azunna however advised the government not to give room for agitations particularly when giving appointments, sharing of resources and citing of developmental projects across the country as these are areas that give room for agitations especially when they are not evenly distributed.
He used the occasion to announce that every December 29, Ohanaeze Ndigbo Imo State would be showcasing to the world all cultural values of njirimarandigbo.
He appealed to every Igbo son and daughter to work hard in any place they find themselves to promote Igbo language, culture, tradition and all core values of Ndigbo, adding that they should portray good characters and behaviours in all their areas of endeavour.
This year's event, he said was low key because of the sudden death of the state vice president, Dr. Ignatius Chineke, who was involved in ghastly motor accident.