Tragedy struck in Aba, Abia state on Friday morning as a tanker conveying diesel exploded and destroyed property worth over N30 million along Aba-Owerri road.
Although no life was lost in the incident, sources told 247ureports.com that over seven vehicles, three tricycles and five buildings located in the area, were gutted by fire.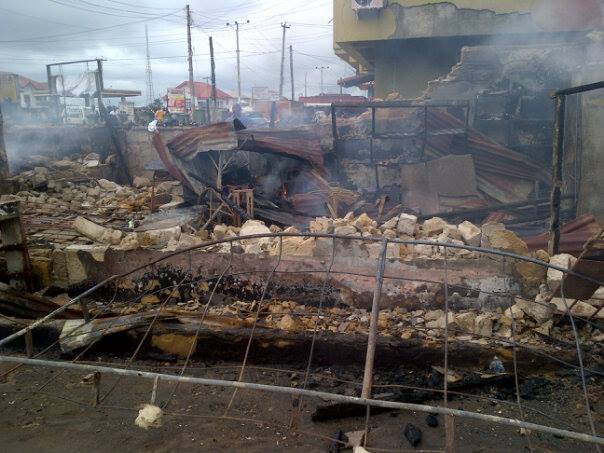 The truck loaded with diesel was said to be attempting to enter a filling station to discharge its content when its body broke off and landed on the road.
According to one of the attendants at the filling station, "the tanker was going into the opposite filling Station but while the driver was trying to reverse; the body of the truck broke off and discharged its content on the road.
The attendant explained that an unsuspecting motorist ran over the spilled product which ignited the fire leading to explosion.
"We suspected that the heat from the bus exhaust pipe ignited the fire and before you know what is happening, everywhere was on fire. It was too severe that efforts by sympathizers to stop it from spreading to buildings did not work until the Fire service people arrived the scene."
247ureports.com further gathered that but for the timely arrival of the men of the Fire Service, the entire area would have been burnt down by the fire.
When the inferno died down, it was discovered that seven cars including a 911 truck, and three tricycles as well as over five buildings were burnt beyond recognition.
When contacted, FRSC Aba Unit Commander, Okora Awassam blamed the incident on the carelessness of the truck driver , lamenting that their attitude on the roads have become a threat to other road users.
She added that her agency had initiated several programmes to enlighten drivers on the need to be safety conscious and ensure that their vehicles are in good shape before driving on the road.