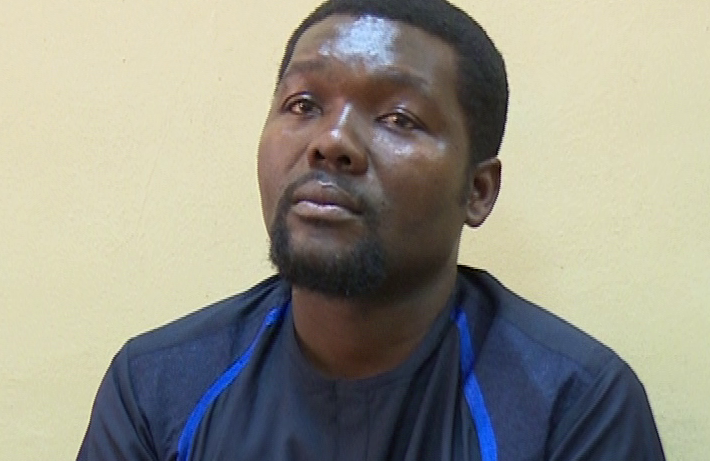 EFCC Press Release
A staff of the National Biotechnology Development Agency, NABDA, who attempted to dupe a National Agency for Food and Drug Administration and Control (NAFDAC) contractor, Liuideco Global Services Limited, on the pretext that he can help "kill" a pending investigation by the Economic and Financial Crimes Commission,EFCC, has been arrested by the anti-graft agency.
The suspected fraudster,  Samson Irefin was picked up by operatives of the EFCC in the early hours of Friday September 11, 2015 in the premises of a new generation bank in Abuja, as he attempted to collect the sum of N500,000 which he had demanded from his victim to "" Kill" the case.
The sting operation was made possible by the courage of the would-be victim who contacted the EFCC after Irefin made his approach, claiming he has influence in the EFCC to get him a soft-landing. But convinced he had done nothing to warrant investigation by the EFCC, or a ransom to be spared the ordeal of investigation, alerted the Commission, where he was advised to play along.
 From that moment, Irefin was under close watch, with his every move being monitored by the anti- graft agency, culminating in his arrest this morning.
The suspect will be charged to court after investigation is concluded.
His arrest however brings to the fore the antics of some fraudsters who have been going about, defrauding members of the public by demanding for money to stop the EFCC from investigating petitions supposedly written against them.
The Commission has consistently warned members of the public not to fall prey to these fraudsters as no inducement can stop an investigation by the EFCC. It has also repeatedly called on members of the public to promptly report any solicitation, by either genuine or fake EFCC officials, to the nearest EFCC office or police station.

Wilson Uwujaren
Head, Media and Publicity
11th September, 2015