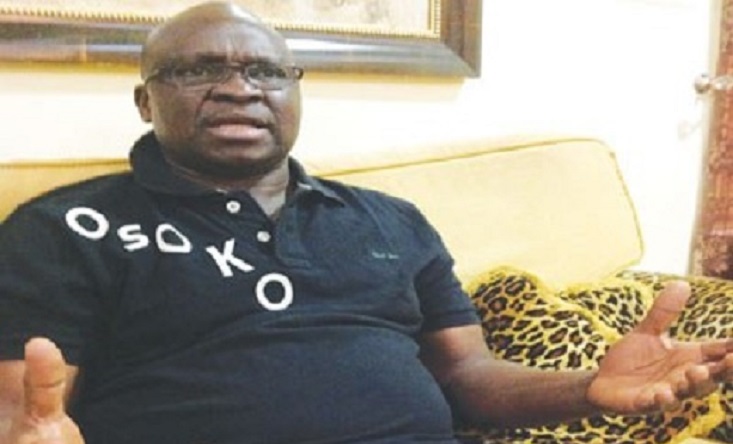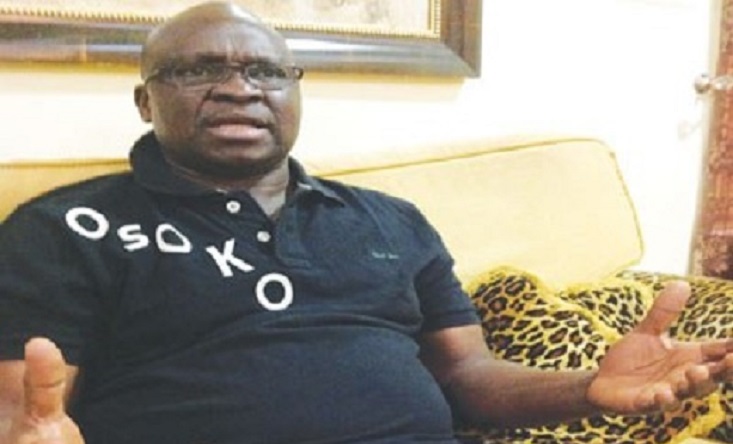 To most indigene and non-indigene residing in Ekiti State, the appellation-Fountain of Knowledge is suited considering her array ofdeveloped manpower and often, have turned a point to boast of a Nigerian State with firebrand knowledge necessary for the 21st century sojourn. I could remember my year in a neighbouring State during National Youth Service Corps as my friend, Yemi, never allowed so many of us from outside the South-West discuss governance without using Ekiti as case study. To Yemi, Ekiti remains a reference point, and positioned to serve as export as no single person according to him could pocket the numerous educated minds ready to do long battles on issues of governance, human right and protection of human dignity.
The above picture came to my consciousness recently upon the inauguration of of 72 year old Illiterate Carpenter, Pa Olatunde Afolayan,as Caretaker Chairman of Mopa Local Government Area(LGA) of Ekiti State by the State governor, Ayodele Fayose.
As much as I do not begrudge, Pa Afolayan for what favour may have thrown at him as the Religious would want us believe but, I certainly felt my friend,Yemi, may have over priced his darling State before most of us from the other side. It is certainly not a mistake for the holy Scripture to ask those boasting to beware else they pay the price and this fact, Yemi, never thought of before embarking on his numerous long drawn battle with us years back.
Obviously, Pa Afolayan had asked for a lowly position according to him as Party Ward Chairman would suffix but caught the blue eyes of the man who Ekiti majority elected to carry their burden. Today, Pa Afolayan is a Caretaker Chairman superintending over the Ward Chairman and other Ekiti Intelligentsia from Mopa LGA.
Interestingly, Pa  Afolayan realizing where he is coming from acknowledged as seen"I have not gone to School for a day but that does not diminish my intelligence. I may not be educated or certificated but I have brain and experience to pilot the affairs of the council". So, I am at peace with daddy Afolayan for his boldness and never tried scaling the fence of our tertiary Institutions for 'certificate' as some have done in the past.
Looking at the miracle man who believed and delivered Pa Afolayan to this height ,Governor Fayose states" some of us used them to get to position and forget these people. In my government, whether you are educated or not, you will get something. The vote of a Professor and an illiterate is the same. So under my administration those who are not educated can rise to any level they want". So, why bother on the twin issue of merit and innovativeness? Baba Afolayan worked for his nomination and should chop his own.
However, the greater trauma remains a comparism of Professor's vote with that of the illiterate vote in a State boasting of her rich human Capital base.Do we conclude that education has no place in our development drive? Or, that we need not join the rest of the World deepening education and human development ?
The clear lines must be drawn letting His Excellency appreciate the impacts, education could throw at Speedy development of his State and further cause structures/systems leading to sustainable development.
Interestingly, putting one on the drivers seat as governor does not amount to a Mortgage or partitioning of a State making for global issues like institutional building and good governance pushed backwards. Pa Afolayan can only run the race of Mopa's development according to his level but, certainly not for a time like this where there exist global decline in oil prices affecting our national receipts. It is never for a time the States are moving into cost-cutting, debt restructuring and innovative Internal Generated Revenue approach. Possibly, Pa Afolayan is expected to release his Policy thrust and Strategies in the coming days towards kick-starting the economy of Mopa LGA. Mind You! Pa Afolayan is expected to treat Memo coming from the System and possibly, face the Civil/Public Servants.
Now, I ask, Can Governor Ayo Fayose beat his chest that given an opportunity, which he would employ Pa Afolaya as his company's Chief Executive and quietly recline into his innermost expecting geometric growth
While the appointment attracted wider opinion, His excellency moved-on with his rice sharing mission to  Ikere-Ekiti having solved the rice needs of those of Ado-Ekiti and a promise to visit all the LGA. As much as I do not believe such gifts that happens once or twice in a longwhile reminiscent of our early days when rice was cooked only on Christmas day, and would think that his Excellency devise very creative and sustainable means in solving the rice needs of Ekiti populace. Indeed, the governor would never stop at the sharing but fired from his cylinders rating rice sharing above roads construction and development.
Moreso, the governor like a man with outstretched hands hit some civil servants for lateness upon visit to the Ministries, Department and Agencies (MDA). The threats by the Governor without considerations on the circumstances leading to lateness may have cowed the Civil Servants as they went on their kneels , and some rolling on the ground to avoid instant sack. It is incumbent on the Nigeria Labour Congress(NLC) to cause an inquiry on the circumstances, and possibly build assertiveness in the minds of her members.
Truthfully, the intelligentsia of Ekiti must let his Excellency understand that governance as presently constituted is an investment expected to produce giant returns in service delivery to the populace. It is also no longer a place for men who can not think outside the box of human development. So, a comparism of derivable from tarred road and rice sharing do not arise as good road sparks the economy to growth.
Yes! Ekiti State, the fountain of knowledge according to my friend, Yemi, must be moved outside  the present brand of sharing rice and Pomo to very sustainable platform where innovation and creativity resides. This State needs to redefine her concept of Stomach infrastructure.
Till then
–
Mr Ogwazu Nnamdi
A Journalist and Commentator writes from Owerri
ndogwazu@gmail.com  08038224575