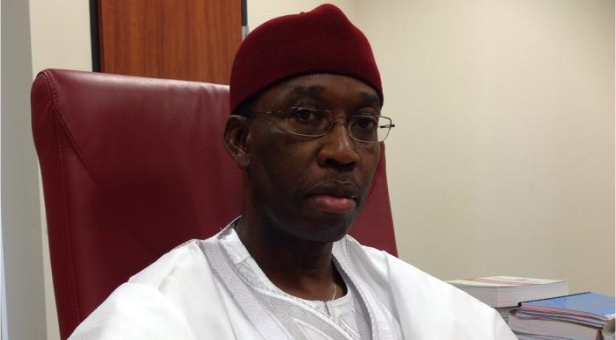 In apparent fear of the likely outcome of his motion, the counsel prosecuting the election petition filed by the Labour Party's (LP) gubernatorial   candidate, Chief Great Ogboru, challenging the election victory of governor Ifeanyi  Okowa  at the polls, hurriedly asked  the Delta State  Election Petition Tribunal for adjournment to enable him  get ready   to examine his witness.
At the resumed hearing of the matter yesterday, Ogboru's counsel, Mr. U Onwukwe expressed dissatisfaction with the tribunal   panel for allowing   the All Progressive Congress (APC) matter and Peoples Democratic Party (PDP) cases take precedence over his own cases.
Onwukwe, who stood in for   Mr. Dele Adesino (SAN), led counsel to Ogboru, prayed the tribunal to allow his matter to be called so that his witness can mount the witness box.
After much pleading from Dr. Alex Izyion(SAN) counsel to governor Okowa, counsel to PDP Mr. Timothy Kehinde(SAN) and Mr. D.D Dodo  counsel to INEC , Onwukwe stood his ground that rather than adjourn  his cases , he was ready to go on with his matter, adding that his witness , an INEC staff has a limited time tom be way from  duty post in Abuja.
Kehinde   argued that  the,  "witness  has not write to be absent from court, she is duty bound to be available day to day until your lordship feels that her services is no longer required, the whole of next week will be very convenient, if she comes on Monday, give her evidence and go on with the other witness that they want to present.
" I suggest that tomorrow will not be convenient looking at the entire circumstances, especially taken into consideration the eagerness of APC to conclude their case. By every parameter, the APC commenced first before that of labour party. LP can have the whole of next week to conduct their cases as APC took the whole of this week to prosecute their cases".
Dodo, in his submission adopted the positions of the Kehinde and Izyion, and said, we believe its better to have APC close its case, and it goes away for one week or ten days, then LP can open its case, with that the courts records will be more tidier and more organized, lets conduct the case in an orderly manner, instead of closing at 6pm, we can stay till about 9pm to 10pm.
But Onwukwe said, "the issue of been tidiness, the records are different, as APC record will be different from LP record.  We can here for the hearing of our matter, they cannot be complaining of  to taking  their  time, it's my time they are taking, and am not complaining, conceding let us take my case tomorrow, its important to state that this matter was adjourned for 20th and because of their motion, the matter was further shifted, we cannot continue like this.
Chairman of the Tribunal, sensing a possible legal confrontation between Onwukwe and the legal giants acceded to Onwukwe's request and asked him to call his witness and commence his cases.
But in a dramatic turn, Onwukwe   after announcing his appearance and the name of his witness, simply said, my lord, we are conceding, let the matter be adjourned till tomorrow to enable us examine our witness and continue with the trail.