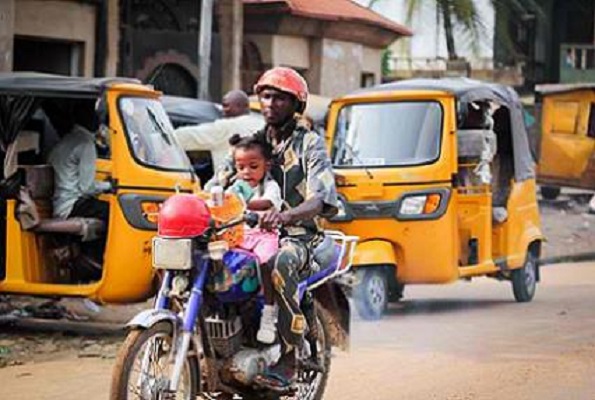 The recent ban of Okada and Keke tricycles by Anambra State government in most major high roads have been generating commendable response from majority of Ndi Anambra, some reactions are not so palatable.
Let me first of all state that the Governor of Anambra State has a God's given responsibility and our mandate to strive to protect the lives of Ndi Anambra. This is the primary reason for his position.
For the interest of those that may not know, our hospitals and mortuaries are full of victims of Okada and keke accidents. They have sent so many people to early grave due to the recklessness of the drivers. Most of them do not have any knowledge of anything safety, side mirrors for them are mere appendix. Keke and okada keep competing with trailers and other heavy duty trucks on the major high ways. It is evident that some operate these bikes while under the influence of some crazy stuff otherwise their senselessness is unexplainable. Governor Willie Obiano and his government have an option, to allow our people to keep perishing out there in the hands of reckless okada and keke drivers and protection of the profits of the importers of okada and keke in Anambra, or do the right thing for Ndi Anambra and in the sight of Almighty God. As a God fearing man, Governor Obiano chose to be with Ndi Anambra and God.
For anyone to raise any argument against the actions of Governor Obiano mean they either do not live in this country or they have not seen or visited the hospitals and mortuaries to see the consequences of the actions of okada and keke drivers. These guys are very reckless on our major roads, they are heady to training and supervision, they constitute a law unto us all and most times do not give a damn about their passengers especially the young ladies. Most of them belong to cult groups and these bikes are used in perpetrating crimes. Most are not indigenes of the State but influx from the North and surrounding States where bikes have been banned. Do we then expect a responsible Governor that is answerable to God for his privileged position to turn a blind eye to this insanity that has gone on for too long? We should be grateful to Akpokuo that he has the courage just like he has the courage to quash crime, innovate agriculture, uplift the face of the capital city, attract multibillion dollar investments within one year.
Governor Obiano was elected to make hard decisions for our better tomorrows, if he does not do such, then he will be abdicating his responsibilities to us which starts with protecting us from predictable dangers. With most decisions made so far by His Excellency, he clearly has the COURAGE and WILL to provide us with lasting and valuable transformation that shall benefit all for very long time.
It is agreed that Anambra State gave Nigeria okada and now keke, we must learn as business men to evolve our businesses with the time. We cannot keep living in yesterday when today is moving very fast ahead. Like our State government, we must evolve with realities.
The government has not banned okada or keke I must emphasis, but has stopped them from plying the very busy roads thereby saving the lives of our sons and daughters, our friends and loved ones, we are grateful to God he gave us a courageous leader as our Governor.
Let me state the direct benefits of such high way restrictions,
it will reduce the pressure on our health services by reducing the volume of accident victims from okada and keke,
it will reduce the expenditure being made by the government on healthcare thereby releasing money for other needed projects in the State.
It will reduce the number of amputated persons in the State and save lives, valuable lives of Ndi Anambra,
it will free hospital beds to take care of other ailments,
it will free the precious time of medical personnel and enable them more time to pay attention to other patients,
it will create a better, safer Anambra and make us much happier. Akpokuodike oza, Ndi Anambra is here for us and we appreciate him.
Anambra businesses must challenge themselves and evolve with the time. It is same with importers of generators as it is today, I believe that in the nearest future, the needs for generators will reduce as the power sector improves, it is the right time for the traders to start looking at other power alternatives as not to be caught unawares. In this life, the only thing that is constant is CHANGE. If we refuse to move with the time, the time will leave us behind, God forbid, Akpokuodike oza Anambra is here, APGA government that cares is here.
I look forward to the day that okada shall seize to be a standard means of transport. As the infrastructures improve, so shall the need for such mode of transport be diminishing.
Let this also be the opportunity for these young men that are really being wasted to think outside the box, think of more valuable and safer things to do with their lives. I am certain God provided them with different talents and skills. This restriction does not necessarily translate to creating criminals, it gives opportunity for soul searching, opportunity to activate God's real purpose in their lives. Okada and Keke driving may be ok but not for every young man. The truth is that we have a benevolent Governor that is exposed and understands well thought out ideas. If only these drivers would realise that, better opportunities could be there for them.
As we adjust to the options that abound out there, the red buses, taxis and civil servant transports provided by the State government and other private commercial transport options, it is important that we are reminded that our Governor does not ride on okada or keke, he took this decision because of us, he took this decision because he cares. It is only Governor Willie Obiano, the APGA working Governor that can do this. We are not here to make political decisions, Akpokuodike oza is here to make decisions, practical and value adding decisions for the betterment of Ndi Anambra.
Ndi Anambra, we must encourage Akpokuo's courage, we must wish him God's guidance as he stirs us in God's wisdom towards better opportunities in all areas for us all.
Willie has reduced crime to the barest minimum, it is very important he protects Ndi Anambra as to enjoy the dividends of democracy through APGA government that is our own.
ANAMBRA BU OKE MBA, APGA BU NK'ANYI
WILLIE IS WORKING
I salute you all.
–
Hon. Chinedu Nkwonta
State Publicity Secretary, APGA
153 total views, no views today