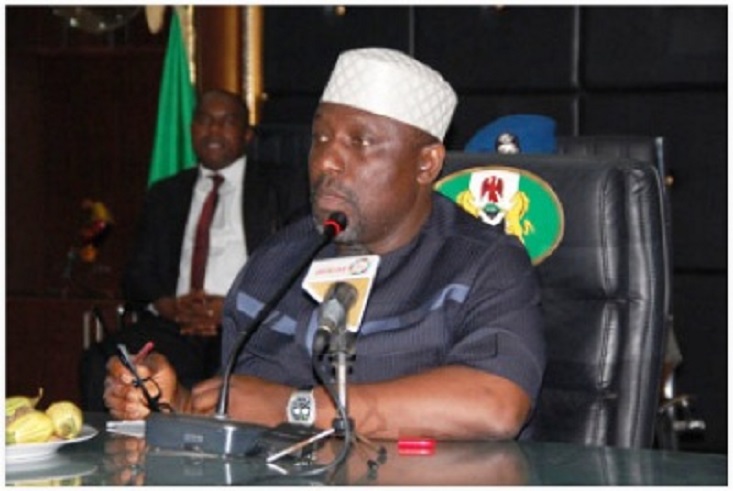 … lampoons IMSU Lecturers for going on strike
Governor Rochas Okorocha of Imo State has assured the people of the state that the free education policy of his administration would remain vigorously pursued.
The governor's statement followed the rumours recently that he had subtly stopped the free education programme in the state following the current economic downturn that has hit the country.
But, speaking when he returned from his brief oversea trip, Okorocha stated that all the necessary sacrifices would be undertaken to ensure that the free education programme remained enviable.
The governor, who had arrived the Sam Mbakwe International Cargo Airport a little before 4 pm and was received on arrival by close aides and associates, took exception to the strike action embarked upon by the lecturers at the Imo State University, saying that the action of the lecturers was uncalled for.
Okorocha added that it was unthinkable that the university teachers could embark on Industrial actions over one and half months salaries, when some states in the country had not been able to pay their workers for more than ten months.
The Governor hinted that the action of the Imo State University lecturers would be looked into to see whether it was done in good faith or it was an act of sabotage since the state government had been living up to its responsibilities to the University since it came on board in 2011.
He commended Imo people for remaining peaceful during the period he was away, assuring them that his second term would continue to provide the dividends of democracy especially job Creation which would witness the building of industries, factories and so on.
He insisted that his second term would witness eradication of poverty in the state, even as he asked for the cooperation of all to move the state forward.
The governor said that the incoming President of the country, Mohammadu Buhari would need the fervent prayers and support of Nigerians to turn things around for the better.
Okorocha expressed fears that the economy of the country was in a very precarious condition and that it would take a miracle for the president-elect to perform.
He said that since independence the country's economy had not been as bad as it was at the moment.
In his words, "the economy of our nation now is in its worse shape than ever,  God will give the incoming President the wisdom to battle with all the challenges awaiting him especially the diminishing resources, coupled with dwindling and falling oil prices, all have made payment of salaries and execution of government activities difficult for some state.
"The condition calls for a period of absolute sacrifice by cutting down the cost of governance at least by 60% to be able to cope with the present condition"