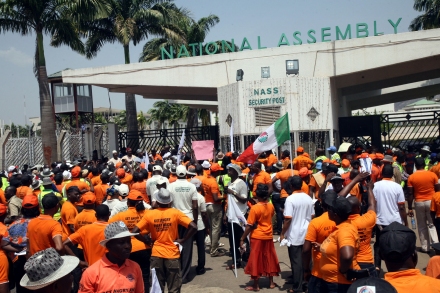 Following the admittance of Nigerian state governors that they were not able to pay salaries because of the current economic crunch, the Imo State President of the Nigeria Union of Local Government Employees, NULGE, Comrade Ambrose Onuoha, has lampooned the governors for lacking in managerial skills.
Allocations to the states from the Federation Account had been reduced by more than 30 per cent in the last seven months, thereby rendering the states inability to meet their financial obligations.
But, speaking with journalists in his office in Owerri on his re-election as the NULGE president, Onuoha, who is also the state Vice Chairman of the Nigeria Labour Congress, NLC, expressed sadness that the governors were now complaining of inadequate funds to pay salaries and run their states, even when they had so much to save in the past.
He said governors who had no inkling on financial management were those owing salaries.
The labour leader, who cited his administration as an example of good management said "Now NULGE has not received any check off dues for March and April due to the fact that LG workers have not received two months salaries, but we have paid the entire staff working for us. That is planning.
"That is why I am angry with some of these governors complaining about their inability to pay salaries and work. They should be able to save for the rainy day. But our governors do not want to hear about that. What they want is there is excess crude account but let us share the money and eat it today.  Why must we share everything and eat?
"Remember Abacha loot, nobody knows how it went. We learnt it was even shared among top government officials.
"When oil was about N145 per barrel, what did you do with it? Look at Dubai, that beautiful city was 16 years old but it was somebody that transformed it to what it is today. It was turned from desert to sky scrapers. In Dubai, you cannot find eight storey building. That is where you have the tallest buildings in the world ranging from over 160 storey buildings. In Dubai, there is no street that you can find sand. What you find in one street in Dubai is far much more than the entire assets of Abuja. That is oil money.
"But here, you find that all the years of oil boom, we did not do anything with it. It is very bad administration. The president and the governors should not cry of insufficient fund because it is too early for us to do that.
"Look at America that has no oil, if Nigeria stop supplying oil to America, they can live in the next 50 years without begging oil and sustain themselves with more than enough oil in their reserves. Why can't we have reservoir?
"I pity this country, I pity trade unions that cannot manage their resources and I pity companies that are closing down. These are as a result of lack of administration", he said.
Onuoha who debunked speculations that he borrowed over N100 million to build the two-storey office complex in Owerri, added that he was able to achieve much because he is a professional accountant.
"As an accountant, you can't come to my house without finding any food, which means any time I receive my salaries, I know what my children need, and even provide extra in any case I don't receive salary when due. That is administration. That is to say, I don't expect any of my children to cry and if I see that any of them cried of hunger, I can slap his tooth out of his mouth. That is administration.
"We didn't borrow money to finance our secretariat project. No bank can give you N100 million without a collateral. What we inherited was only a rickety Toyota Camry car and this land. There was no collateral any way
"The buildings you are seeing here are out of my own knowledge as a professional. I am a chattered accountant and in accounting, all you need do is apply your knowledge and turn every kobo into naira. It is a chattered accountant that should be able to do what I have done. But some people will not understand it, but will say it is money borrowed.
"If I had borrowed any money to finance the projects and this is my second tenure, why hasn't any bank come around for the building?
'So, there is no truth in it. I still rely on the three percent check off dues of our members. I cannot embark on projects that NULGE cannot fund. Some people are only complaining because this is the same money the previous executives could not use to get us any single project in the past.
"So, because my knowledge of financial control and management that is why you are seeing this two-storey office complex standing and people are saying that we borrowed N100 million. It's not true", he said.