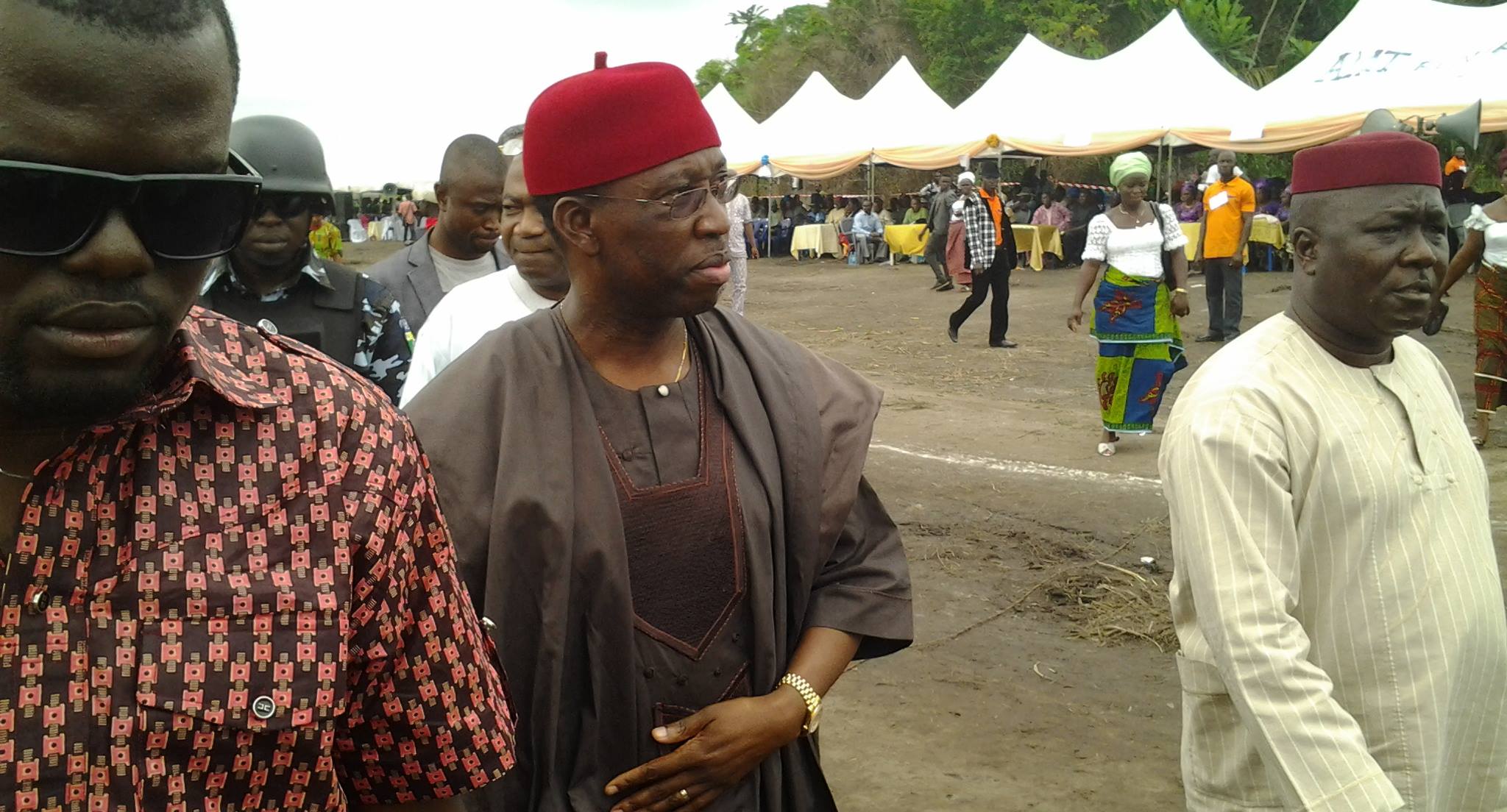 In the build up to the Delta State guber election, the intrigues involved that saw Dr Ifeanyi Okowa emerges the PDP flagbearer and subsequently as Governor Elect can only be ascribed to God and maneuvering by some hands that pulled the string.
His government will not be enjoyed like his predecessor, Emmanuel Uduaghan who worked with the Peoples Democratic Party (PDP) President, but will be working with an opposition in the All Progressive Congress (APC). His success for the 4 years will be influenced by some figures in the State whose decision, actions and inaction can cause him nightmare all the years of his government. In no particular order, we unwrap the 5 men of the moment that will shape the public view and political survival of Okowa's government.
Chief James Onanefe Ibori: Call him a prisoner in faraway London but what those who are physically present cannot do, he has just through phone calls made them possible. As a former governor of the oil rich state, he successfully built a political dynasty where an unwritten rule stated that after Uduaghan, Okowa will take over power, in what is known as the G3. Along the line however, the incumbent, Gov Emmanuel Uduaghan refused to toe the line and had to bring in a super permanent secretary in the person of Anthony Obuh to succeed him. This brought about a silent war between Okowa and Uduaghan. Authentic news had it that the intervention of Ibori was one of the reasons that saw Okowa coasting to victory in the primaries. As reports had it, he allegedly placed a call to Ighoyota Amori and other loyal Urhobo politicians to divert the delegate to Okowa, which partially played out.
Okowa cannot afford to do away with the political grand godfather who can make his loyalist cause havoc in the state and stop peace. In government, he will be among those who will be given slots to choose Commissioners and various chairman of boards and agency. Ibori cult following may never be rivaled and Okowa cannot play dice with it. From 2015 to 2019, he will be a force to reckon with in the Okowa government.
Olorogun Otega Emerhor: The APC guber aspirant in Delta State is automatically the opposition leader in the State, since his party controls the central. He is very likely to be a Minister of the Federal Republic and may also be saddled with the responsibility of determining who gets what in the Federal cabinet. His views on Delta to the Buhari Presidency can pitch Okowa at loggerhead with the centre. He is not a political prostitute but one that commands respect, haven being with the defunct Action Congress of Nigeria before the merger.
The boardroom genius will be pulling the string of the State at the Federal level and determining Okowa's fate before his party men. It will be likened to Gov. Rotimi Amaechi and Nyesom Wike if Okowa does not manage him well. He is among the men whose words will matter a lot.
Government Tompolo: Tompolo is his nickname used during his struggle for resource control, which brought him face to face in battle with the Nigerian Government armed forces. The Gbaramatu Chief is the defacto godfather of Okowa, even though his media men do not agree. He it was said singlehandedly paid the delegates in dollars who agreed to deliver Okowa during the PDP primary.
The silent billionaire cannot afford to be ignored by Okowa, especially when he has the loyalty of the Ijaw. His influence is also seen in his choice of a deputy to Okowa, which was not contested by anybody. Many are of the opinion that the deputy, Kingsley Otuaro who is his cousin is planted to serve as an eye to Tompolo and report back unfavorable decision to him. With almost all the house of assembly members from Ijaw sponsored by him, he will not only be influencing Okowa but the State legislature.
Fejiro Oliver: He is unarguably Delta State best export in the media, especially the social media where he can be rated among the first 30 Nigerian social media influencers. As a blogger and a journalist, his entrance into the Delta State politics changed the argument with his Investigative, propaganda and sensational reporting. He is known to be Uduaghan's nightmare and a headache to many governors and agencies. A leading member of the social media with huge followings; whoever brought him into Okowa's camp definitely knew what they wanted. His claim to fame is the health sector where he is the most known reporter. His abduction by the Niger State Governor was his global claim to fame and since then he has not rested. In the course of the campaign, his investigative and document based reports forced the governor to dump Obuh, as he believed it would stop once Obuh was out of the way. This continued as he blew the $1 million given to UPU by the governor to support David Edevbie and with that, Okowa's victory was sealed. Some have argued that he blackmailed Uduaghan into submission while ensuring Okowa remains in the good book of the media.
He is reputed to have successfully deliver Okowa as a governor in the social media; influencing minds of electorates through his reports and posts, while smearing his principal's opponent. As one of the Buhari social media persons and will definitely have a stake at the Federal level. Even though he says he does not want political positions via his Facebook posts and Twitter handle, there are already side talk from sources within Okowa's camp that he has been penciled down for the position of Commissioner for Information or the Special Adviser on New Media and Communication. If he is made the Commissioner, he may well be the youngest member of the cabinet. To ignore him is to do so at Okowa's peril.
Sunny Onusueke: Those of us in Abuja had their phones daily disturbed with messages of 'Okowa for Governor' from the Nigeria for Good Governance (N4GG) which was discovered to be owned by Mr Sunny. While other Urhobo prominent sons and daughters pulled political strings from behind doors, he did his physically giving clear reasons on why Okowa should be governor.
For a man that has the database of all Deltans living in the country, he can easily be a nightmare to the Okowa led government, with the same manner in which he projected him. a former governorship aspirant, he will not just be relevant in the government but play active role in determining its fate. Like Fejiro, he is also penned down for Commissioner for Information according to rumor mills within Okowa's camp and if he is given; it will be a well deserved post.
–
Jude Chukwueku, a lawyer and social commentator writes from Abuja.