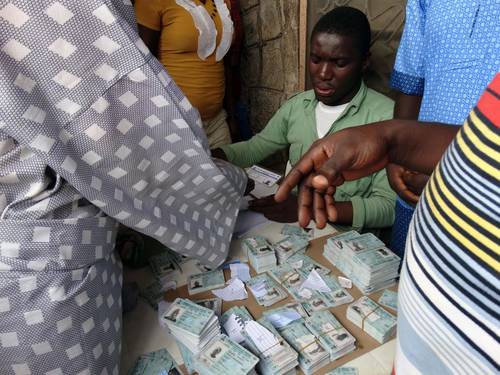 Press Statement
The Rivers State chapter of the Peoples Democratic Party, PDP, has asked the Senator representing Rivers South/East in the National Assembly, Magnus Abe to stop spreading falsehood in his bid to curry public sympathy, describing it as cheap politics and political aberration.
The PDP made this demand while reacting through a statement signed by Jerry Needam, Special Adviser on Media to the State Party Chairman, Bro Felix Obuah to an allegation by the outgoing Senator that some officials of the PDP and the Independent National Electoral Commission, INEC were apprehended thumb printing on ballot papers in the Khana Office of the Commission, Khana Local Government Area.
The statement noted the incoherence of the baseless allegation which it said was hurriedly done to back up Mr Abe's call on the INEC chairman, Attahiru Jega to deploy to the State someone who will help them rig the April 11, governorship election.
The PDP flawed the claim that its members and some INEC officials in Bori were caught thump printing, challenging the failed APC Senatorial candidate to be bold enough to make such video clips public.
Mr Abe, according to the PDP shot himself in the leg when he said further that same INEC had earlier investigated similar allegation before the votes from the Presidential and National elections in the State were collated and found to be false.
Warning against whipping up unnecessary sentiments in the wake of the governorship election, the PDP advised Mr Abe and his cohorts to find better reasons to convince the Rivers people why they should revise their overt statement of victory and support for the PDP as evidenced in the March 28, Presidential election.
This unfounded allegation of thumb printing, the PDP remarked, is only an emotional outburst of an aggrieved loser, strongly believing that it (PDP) is firmly grounded enough in Rivers State, as in any other part of the South-South region, to want to cut corners to win the election.
This can only be done by Magnus Abe and the APC for practically having nothing to offer the State and could not have possibly changed over night from that of a betrayer to a redeemer.
The PDP is therefore urging the Rivers people and residents in the State not to be deceived by the outright lies and political propaganda of Magnus Abe, discountenance the falsehood and come out in their numbers on April 11, and vote massively for the PDP.
Signed:
Jerry Needam
Special Adviser, Media to Rivers
State PDP Chairman, Bro. Felix Obuah
Monday, April 6, 2015