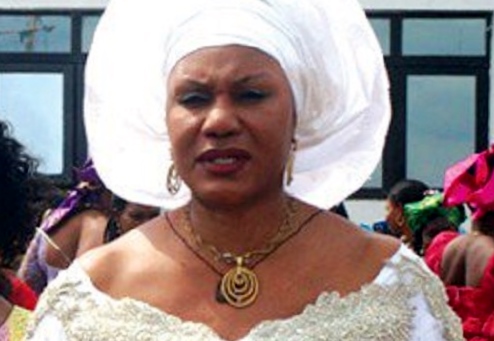 Greatness is achieved not through selfish promotion of oneself or  cheap publicity but through selfless services that benefits mankind especially the down trodden, Her Excellency, Chief Mrs. Ebelechukwu Obiano, the first lady of Anambra State epitomises greatness in all ramifications. Never has Anambra State been blessed with a first lady like the queen of hearts that we have today, a lady that genuinely cares.
Loading ...
For the benefit of the people that do not know, Her Excellency, Chief Mrs. Ebele Obiano is a political iroko, over qualified on her own rights. For Ndi Anambra, the election of Akpokuodike Willie Obiano as our Governor has been a double blessing, we elected Akpokuo, a man of outstanding quality, vision and class and got Osodieme, the backbone and the action first lady as a bonus. God so much love Anambra, otherwise how could we have discovered the talents, energy, kindness, passion and selflessness endowed in one person, the pretty wife of our working Governor.
I was once involved in a discussion with some of our people and everyone has the same view, Osodieme, Chief Mrs. Ebelechukwu Obiano is a God sent first class brain, mentor and determined lady that is passionate about us. She is well prepared to make a difference in the lives of Ndi Anambra especially the indigent and the neglected in the society.
The few times I have had the privilege of sharing an event with Her Excellency, I saw the diamond of a heart that this lady posses and the passion that she has in making sure that she supports her husband to achieve maximally, contrary to the negative media that the opposition and the wicked want to sell to us.
Chief Mrs. Obiano is a great intellect that holds her ground in terms of quality and logical discussions, she spends time researching into any subject of her interest, she realises that being informed puts one ahead of others and gives her benefits especially when she is in such a position where some people may want to take advantage of her. This her attitude to work is not an overnight wonder but an attitude and approach that has been well established over the years due to her professional background and exposure. In all that she is involved in, she has proper understanding of the process and expected end results. Her ability to understand issues that catch her interest puts her on a different operational pedestal than some other first ladies that do not know their lefts to their rights.
It then makes it easy to understand the general saying that "behind every successful man, there is equally a very articulate, supportive and prayerful woman" , I am convinced that if it were not for the support and roles of Osodieme in the life of her husband Akpokuo global, things may not have turned out wonderfully well for Akpokuodike the way it has. The benefits that we are enjoying in Anambra State today through good governance that considers the needs of the people and goes all the way to provide them, eliminating politics from decisions made for our general benefit.
From inception of this government, Osodieme has been meticulous in planning and carrying out her duties. The values she has added to the governance of the State and compassion shown to the indigents in the State can only come from a heart of diamond that genuinely cares.  She could have shied away from these challenging and stressful roles that she is playing for our general well being today, travelling the world and having a good time anywhere she chooses leaving us to sort our problems, she did not do that, she chose instead to dedicate her time and resources to support her working husband by equally working on same progressive momentum as Akpokuodike making us all much happier than they found us.
Osodieme, now called "NNE ANAMBRA" by the masses she continually helps in recognition of her resolve in taking their welfare to heart and solving them like the good mother that she is. Today in Anambra, no one dare mess with any woman because she is a widow, Osodieme, will come fighting in defence of the oppressed.
On assumption of duty, Chief Mrs. Obiano immediately embarked on a thank you tour of the entire State using same opportunity to listen to her people to asses and understand their issues. The tour was an action of an appreciative and humble person who recognised the collective effort of Ndi Anambra in electing her husband as our Governor.
Chief Mrs. Ebele Obiano without wasting time established her Non Governmental Organisation, CARING FAMILY ENHANCEMENT INNITIATIVE (CAFE) knowing that she requires the support of international donor agencies and NGOs to achieve maximally. It is on record that she is the first Governor's wife from Anambra to run an organised NGO.
Within a few months, Osodieme embarked on an expensive medical mission throughout the State where she assembled very formidable medical professionals that assisted her in distributing and dispensing very needed medications that were out of reach of the poor. Osodieme equally distributed treated tents to the elderly and the pregnant women. These acts immediately endeared her to the masses, NNE ANAMBRA, immediately became a household name wiping out the trace of anyone that may have been there in the recent past.
The medical mission was just the beginning, Osodieme realised that the major problem with most families is unemployment. So many parents have spent their life savings training their children in Universities and other educational institutes, most of these kids end up at home, roaming the streets, becoming social burdens all because of unavailability of jobs. Osodieme was not discouraged, instead she moved quickly with full force like a mother whose children are under imminent danger and started scouting through all Ministries both Federal and State, very determined to provide jobs for Umu Anambra. Within one year, her efforts and sleepless nights are bearing fruits, NNE ANAMBRA has secured quality employments for more than five thousand Anambra youths.
Her Excellency as a result of her original tour and research found out that some youths were unemployable due to lack of skills, with the same tempo, she set up well equipped skills acquisition centres and in some cases went into partnerships with existing business, today, graduates of these projects have been provided with necessary tools and bursary, most are already established on their own.
NNE ANAMBRA understands that she is the beacon of HOPE for the hopeless, it is the reason why anytime she is out there, she is packaging and presenting one project or the other for the indigents among us.
She is educating the children of the widows and the indigents, she is feeding them and providing them with lifelong opportunities enabling them to turn out good for self and the society.
As Akpokuodike is busy fighting crime in the State, so is Osodieme busy fighting crime with opportunities and skills for the youths. She has given hope to most kids that would otherwise have become dangers and menace to our society, the synergy between the couple is God's design for us Ndi Anambra.
Osodieme, through her charity, CAFE, sent dozens of children for cleft lip and cleft palate deformity surgeries. The moral and confidence of these children will be boosted and their chances of being successful greatly improved. She most recently performed medical wonders by giving prosthetic limbs to more than five hundred persons that have been without legs. Can we imagine the feelings and tears of joy in the hearts of these affected souls and their families, complete life changing experience and enablement to stand a chance in our very competitive environment. It is then easy to understand why she is very popular and always up and doing, the prayers of the poor is protecting her.
Her Excellency, Chief Mrs. Ebelechukwu Obiano, Osidieme, NNE ANAMBRA is a lady that does not have the word impossible in her books, she is always restless, searching for opportunities that can enable her do more.
In all these, Her Excellency still finds time to look good. A fashion designer once told me about how eager the ladies wait anytime that Osodieme is out and about, they want to see what she is wearing so that they can replicate the concepts. Chief Mrs. Obiano is not just a role model to many in hard work but equally an icon in fashion.
Chief Mrs. Obiano has never relented in seeking opportunities locally and internationally that would enable her do more.
Chief Mrs. Ebele Obiano sees her present position as the Lord's making as God could have chosen any other couple for the assignment. She is not interested in taking the credit as it is the Lord's making, she attributes all honours and glory to God.
Ndi Anambra are rejoicing and our joys know no bounds, today we go to sleep with our two eyes closed, thanks to Governor Willie Obiano who has transformed Anambra from the kidnap capital of Africa to the safest State in Africa and the most sort after investment destination for local and international businesses. The indigents and the poor now sleep not just with two eyes closed but also having nice dreams because they are certain that the education, feeding and the health of their children are taken care of, thanks to NNE ANAMBRA.
Akpokuo global is feeding the civil servants, the aged and the pensioners, Osodieme is taking care of the women, their children and the indigents. The prayers of these individuals shall always protect and guide Akpokuo and Osidieme as there is no prayer better than the prayers of the widows, reason, Jesus is their husband.
Her Excellency Chief Mrs. Ebelechukwu Obiano, you are a rare gift to us, history that you have started will be very kind to you as your good deeds will always speak for you, the journey is far, yet you have done so much, we are excited about the possibilities ahead, you are truly NNE ANAMBRA.
I salute you.
–
kpomness@gmail.com 0909 77 00000